Tucked away in South Kitchener, MoR Elevated Dining & Lounge is a classy, contemporary, and cozy eatery with a diverse menu. We stopped by for dinner on a chilly night a few months after they opened. This is a review of our experience.
The closing of Fork & Cork was a blow to Kitchener area foodies, but it didn't take long for the space to get snapped up and reopened with a new name and a new theme. The space was divided in half, and MoR Elevated Dining & Lounge takes up about half of the original space.
The Ambiance
Dark, cozy, and perfect for date night or girls night out, MoR is contemporary and chic while still casual enough to be wearing jeans. It was a little dark for my liking, making it hard to see details on the plates or take pictures. But it was certainly cozy. We had a corner table that was a half booth, half table. There are other tables, most of them against walls, along with a bar area that's visible from inside the front door.
MoR isn't big, and it is L-shaped, so it never got overly loud. The music was at a reasonable volume, and hubby and I had no trouble hearing each other over our meal, which is sometimes the case at other restaurants.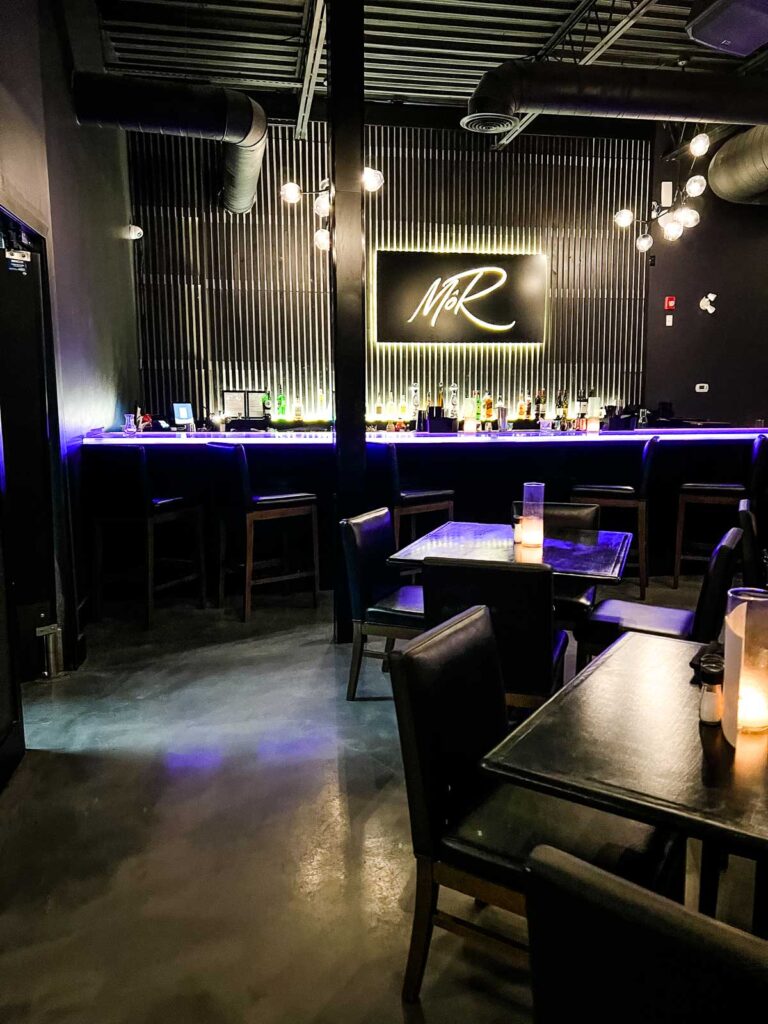 The Service
Our server was enthusiastic with a loud voice. He was a cheery and helpful fellow, but almost too helpful when he was overly eager to whisk away plates before we had both finished. The server happily answered our questions about the (big) menu and was quick to point out that everything on the menu was delicious.
The Cocktails and Drinks
There were some interesting cocktails on the menu, and I went with a raspberry cosmo that was perfectly sippable. I was a little disappointed by the selection of wines and didn't order any.
The Menu
OK, I get it. It's hard for restaurants these days, and they have to offer a variety of dishes to appeal to everyone. But it is hard for me to consider MoR to offer truly elevated cuisine when the menu features a mashup of dishes from sandwiches to rack of lamb. The restaurant was NOT busy on a Saturday night, and I can only imagine the difficulty they'd have in sustaining product for the 4 pages of menu. I hope that it was just a slow night when we were there.
Back to the menu – it was diverse, with plenty of choices for everyone, but nothing really jumped out at me. Short ribs, rack of lamb, fillet mignon… all on the menu. I wanted something new, different, and interesting.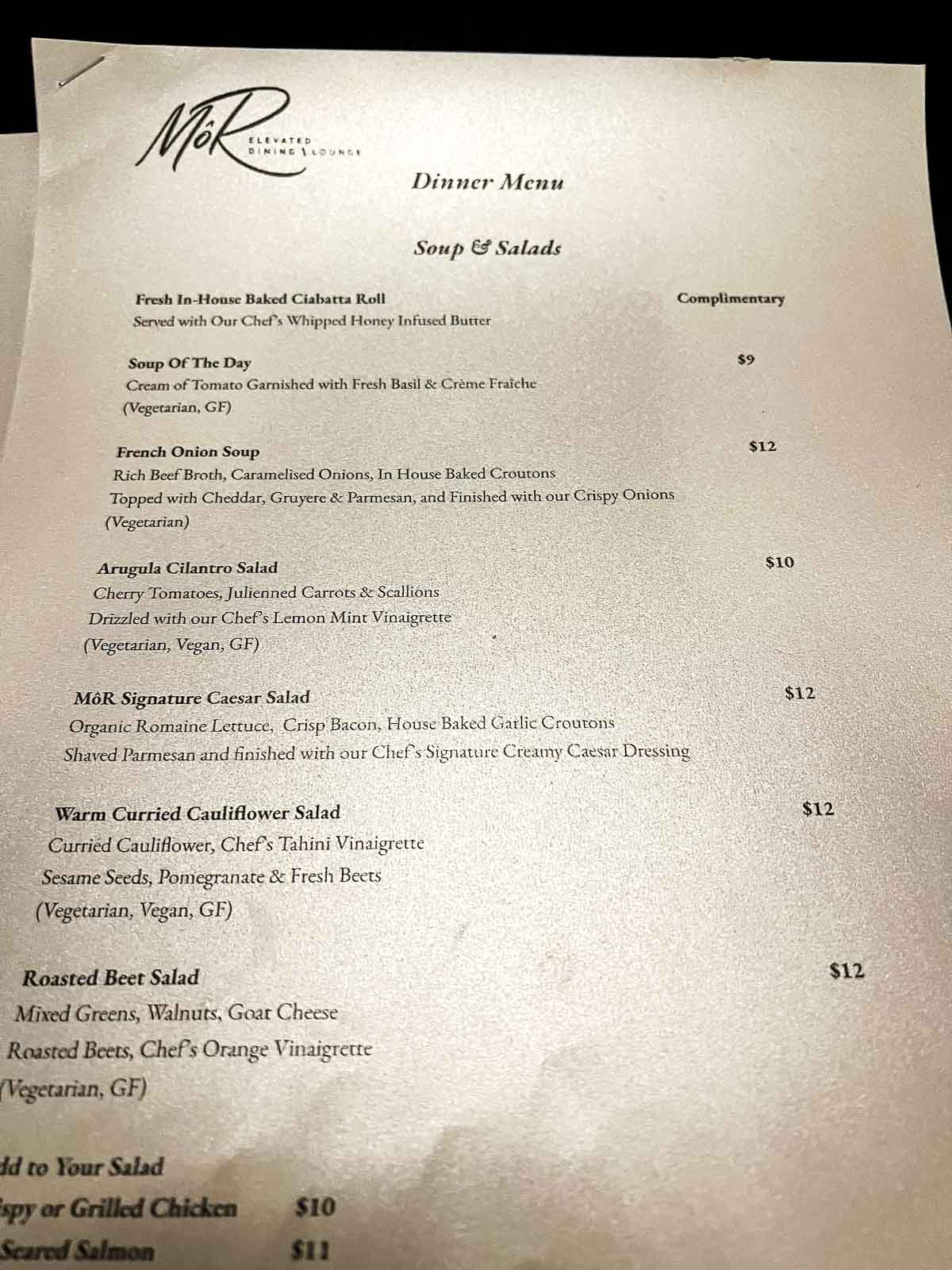 Hubby started with the French onion soup. It was warm, hearty, and thick with onions, as it should be. I found it a little odd that there was cheddar cheese in it, and fried onion strings garnished the top which quickly got soggy.
I had the Caesar salad, which was described as their "signature Caesar salad with the chef's creamy dressing." It was small for the price, and while I appreciated the big chunks of bacon, it was pretty standard.
For main dishes, hubs tried the salmon with multi-grain rice and veggies. The skin could have been crispier, but it was properly served skin-side up to stay crispy. I had the Pesto Gnocchi. I have mixed feelings about this dish. First, it was ugly. Everything was tossed in a skillet and coated with pesto. I like pesto, don't get me wrong, but everything tasted of pesto and looked like pesto. On the other hand, the gnocchi were heavenly pillows of homemade delight, and I'd get just an order of those tossed in butter or something. I did ask for some grilled chicken with the dish 'cause I'm a protein lover. It came chopped up, was dry, and did nothing for the dish.
The Final Word
MoR was OK. It was a lovely spot with a nice vibe, and plenty of comfy seating. It also boasts a good location near to highways and has plenty of dedicated parking. I think that there are plenty of amazing restaurants in KW, and to join them, MoR has a bit more work to do.
Contact Info for MoR
Address: 1458 Weber St E. Kitchener, ON
Phone: 226-840-5156
Have you visited MoR in Kitchener? Leave your thoughts below in the comments!