Part charcuterie restaurant and wine bar, part butcher shop, and part gourmet foodie heaven, The Fat Sparrow Block is home to The Charcuterie Bar, a must-try casual spot for lovers of all things charcuterie.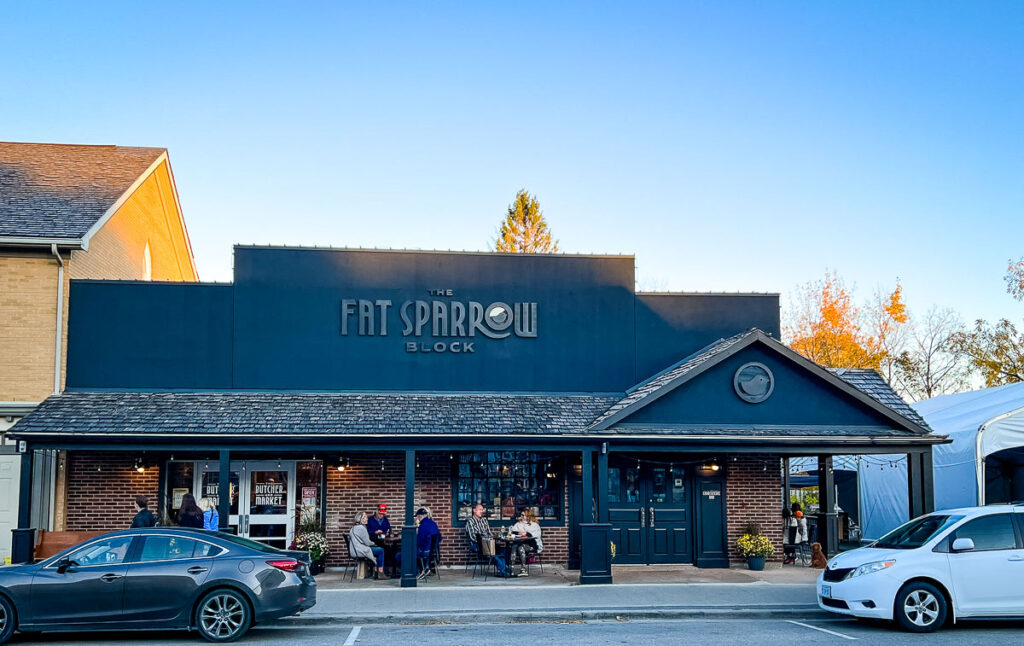 Local Flavors at This Local Gem
We stopped by on what happened to be their third night open, and our experience at The Charcuterie Bar was stellar! If there were growing pains, they weren't evident, and our meal was fabulous from start to finish. Featuring pretty much all locally-sourced ingredients, you know from the minute you walk in that this is going to be a great meal. Hanging just to your left of the dark doors is a glassed-off area where you can see all the salamis and other cured meats hanging. Made in-house and from scratch, there's charcuterie magic happening here!
Headed up by Nick Benninger and his wife Nat of Taco Farm fame (Kitchener) and Jacob's Grill (next door), there's attention in every single detail.
From the thoughtfully curated boards to the wine list and decor, this spot is homey, friendly, delicious, and fabulous.
Charcuterie
The menu offered here is somewhat different than other charcuterie eateries. You can pick from several curated boards and then select from a terrific variety of add-ons. We opted for the Villiage Verified board with salami, ham, summer sausage, and smoked kielbasa, along with The Tourist, a meat and cheese board featuring different salami, aged cheddar, gouda, and more.
There are certainly picks for more adventurous eaters, with globally sourced cheese, smoked pork neck, terrines, rillettes, and more.
I had so much fun picking from the add-ons, including extra oven-fresh bread, onion jam, smoked pickled grapes (amazingly good!) and more. We were presented with their whole-grain mustard and famous apple chutney, as well.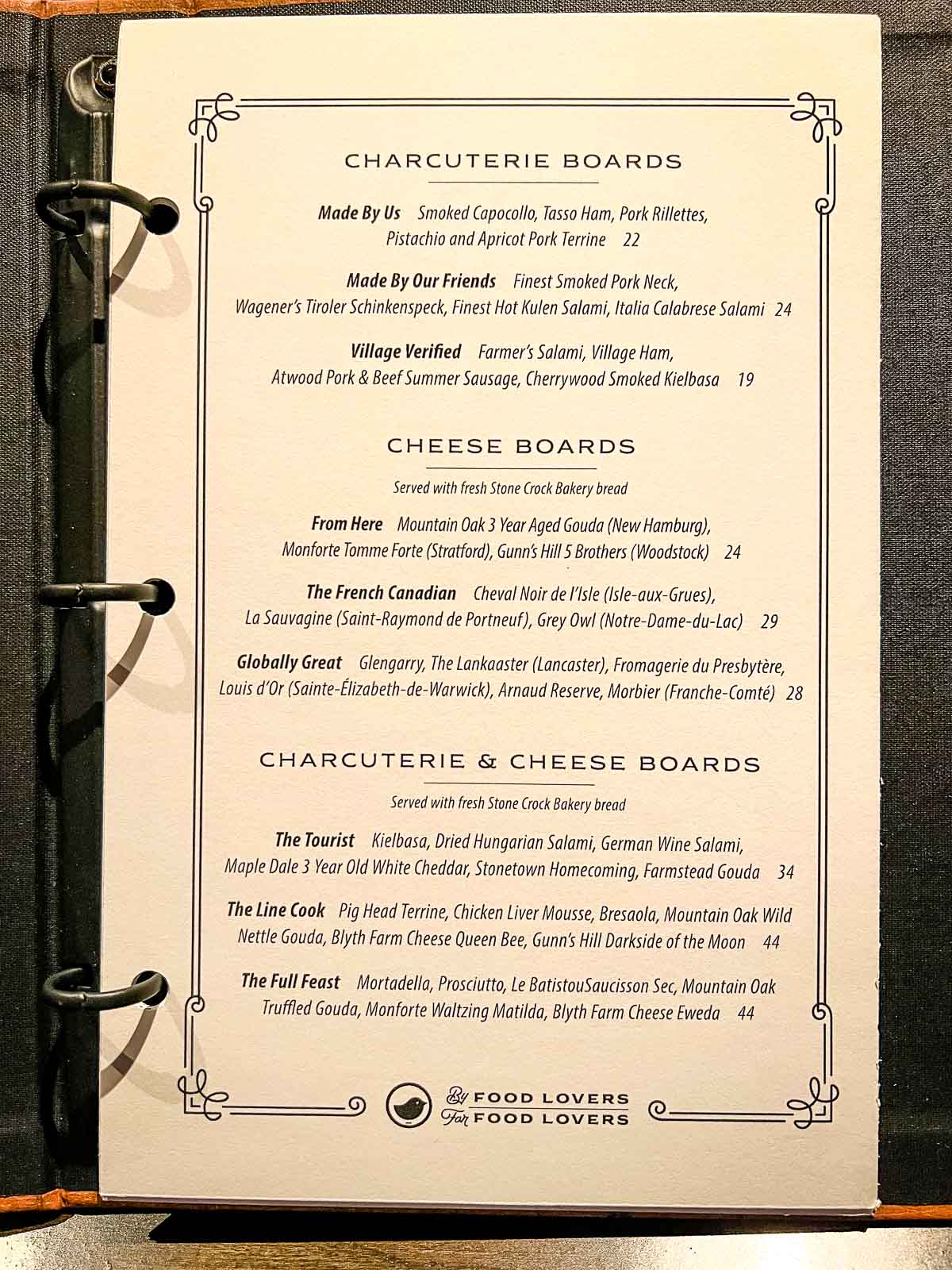 Also Try
There were other dishes on the menu that caught my eye and had to be tried. They included Fancy Mushrooms with Parmesan Custard on toast. We were presented with a large, thick slice of freshly toasted bread topped with luxurious parmesan custard (a silky smooth Parm sauce) and a bevy of locally-sourced sauteed mushrooms.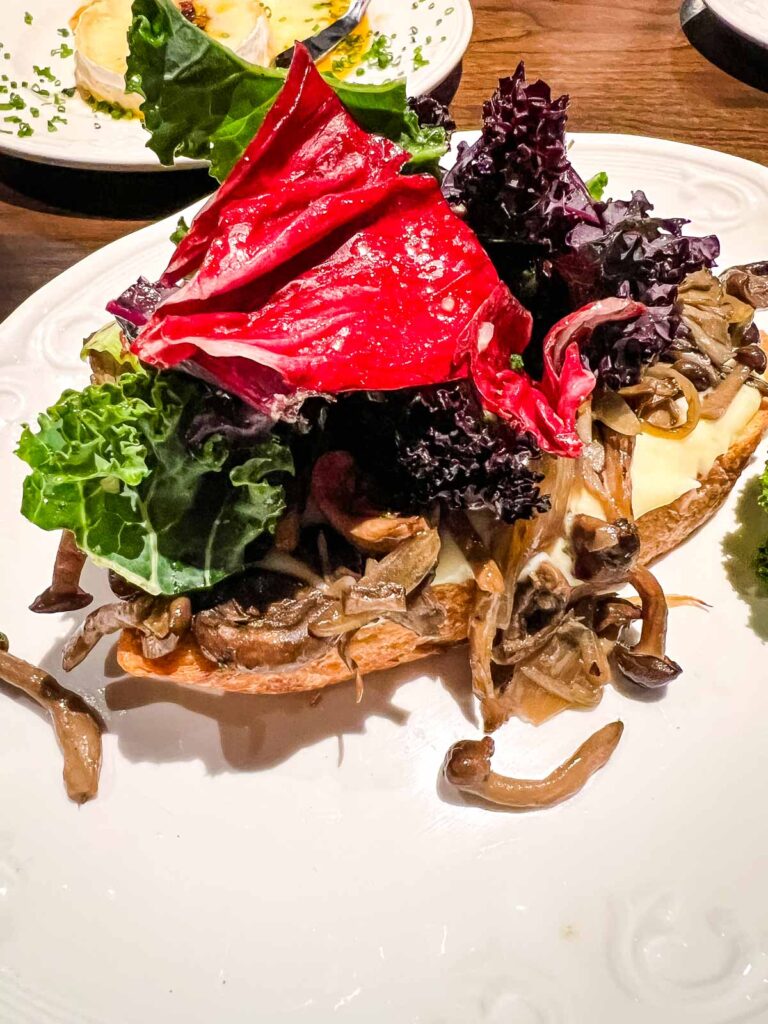 We also tried the Baked Brie with Truffled Honey and Smoked Chili Butter. My daughter proclaimed this her favorite – who can resist ooey gooey brie with sweet and savory toppings? We didn't, and it got swiftly polished off.
Finally, we heard about a special of the day from a neighboring table, so we asked our server about this. She said my favorite word: Burrata. I was sold. We were presented with a baseball-sized portion of burrata surrounded by melty tomatoes and fried capers ($24). I felt like this dish needed a bit more acid, but that didn't stop us from cleaning the plate.
Wines and Beer
I was pleased by the wine list, which offered a stellar selection of reasonably-priced options by the glass and bottle. There were Ontario wines as well as global picks, and many of these are available for sale in the market. Notably absent was merlot by the glass, but I chose a red wine blend that was delicious in its own right.
Standing out from the menu were the beers. Showcasing Ontario brews and craft beers, there's plenty here for beer lovers to try.
The Market
I left Matthew at the table, and my daughter and I checked out the market. The meat counter lured me forward, and I was tickled to see a stellar selection of charcuterie options (cured or smoked meats and cheeses) in addition to cuts of beef, pork, chicken, and more. There's also a frozen food section, a fresh produce area, and tons of bottled goodies to accent homemade charcuterie boards.
I wish I had more time in here – they were closing at 7, and it was very nearly that time – but I did manage to get some sausage and a Cheeseburger Pot Pie. How can you resist a cheeseburger pot pie?
Ambiance
The whole spot is laid-back, casual, and relaxing. It was mostly adults with my 13 year old clearly standing out as the youngest in the room. They weren't packed yet, but I fully expect them to fill up once word gets around.
Noise Level
It is an open room but not a huge one. Even mostly full the noise level was manageable and we could talk easily across the table.
Accessibility
There were no stairs to navigate (but I think the washrooms are down the stairs) and the doorways were plenty wide.
Parking
We got street parking, but there are plenty of parking lots around St. Jacob's.
The Bottom Line
How much did it cost us to eat at The Charcuterie Bar? For 3 people we had 2 board, 2 glasses of wine, 3 extra sides (the mushroom toast, baked brie, and buratta special), and several add-on pickles, breads, etc. Our bill before tip came to about $140. Pretty reasonable for all of that!
Contact Info for The Charcuterie Bar
Address: 1396 King St N, St. Jacobs, ON N0B 2N0
Phone: (519) 664-2286
Hours: 11:30 am-9 pm, 7 days a week
Facebook: https://www.facebook.com/charcuteriebarfatsparrow
Have you dined at The Charcuterie Bar in St. Jacob's? Leave your review below in the comments!