Where can you get some of the freshest just-off-the-boat fish and seafood are flown in fresh from around the world? Right on the outskirts of St. Jacob's at Ago's Boat Fish & Chips!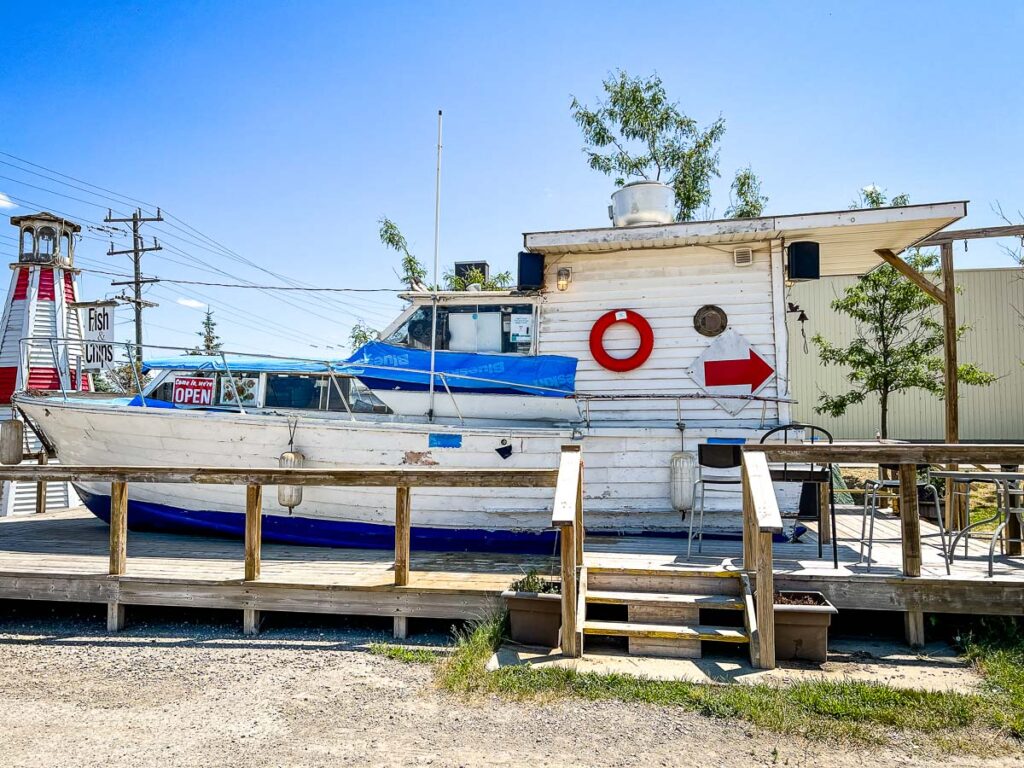 Matthew and I love finding hidden gems, and boy-oh-boy is this local spot a keeper! Housed in an unforgettable boat parked, no less, beside a replica lighthouse, seeing a boat in this area of Waterloo Region is unusual enough. But when you discover the eats that Ago's son is cooking up, you'll never forget it!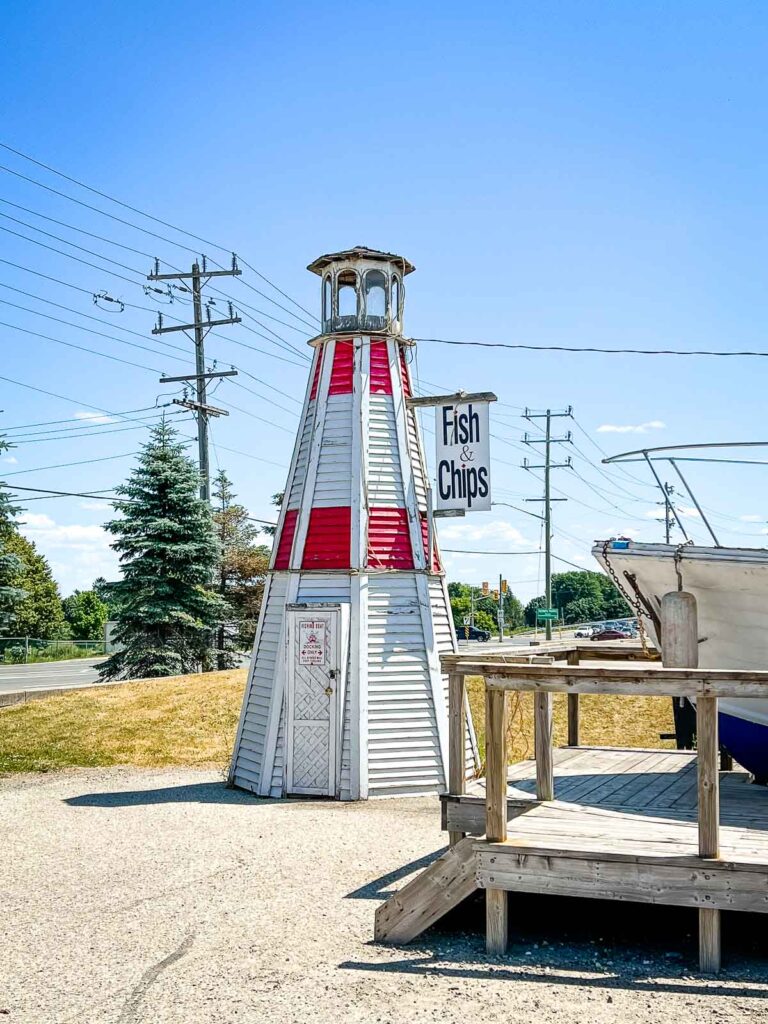 Ago is the family nickname for Agnes, who is also Shondell's mom. Shondell is the chief cook and bottle washer at this 1-man venue, and he's proudly cooking up all his mom's favorite recipes, and bringing a bit of his heritage from Grenada to the table, too.
This food truck – er, food boat – is dishing up some mighty fine fare! A little chat with Shondell reveals that he is personally sourcing all the seafood, getting it direct from the fishermen, and having it shipped in a few times a week. There's no middleman or freezers here, and boy, can you taste it!
We brought out seafood-loving son along on this outing, and he was only too happy to dig into a big plate of grilled tuna (one of their best sellers, and for a good reason!) and Shondell's signature fries.
The Story Behind Ago's
Shondell really got animated when he told us the story behind Ago's Boat. His mother is the cook in the family, and she'd welcome friends and family into her home while living in Jamaica. Her recipes were legendary, and people loved her food. Fast forward a bunch of years, and now Shondell is holding the reins and keeping the legacy of his mom's recipes alive.
What's On The Menu At Ago's Fish & Chips?
When you're wondering where to get the best fish and chips in Waterloo, heat to Ago's! The menu is diverse, featuring not just a variety of fish and chips made with various fish (halibut and cod were recommended), but there's plenty more to try. With everything from marlin and mahi mahi to lobster on the menu, you can eat your way around the world.
And is it ever fresh! Shondell made me a scallop and shrimp skewer – the scallops were so good and so fresh and so plump and so delicious, they rival any top restaurant – and I've had scallops at some pretty fine restaurants. Perfectly cooked, too, I might add – and if you've ever tried to cook a scallop, you know they can be tricky!
Matthew went the more traditionalist route at this casual Waterloo restaurant with an order of fish and chips. Shondell's batter was light and crispy and perfect – none of the thick slodgy batter that ends up being thick and gluey on the fish. This was light and delicious.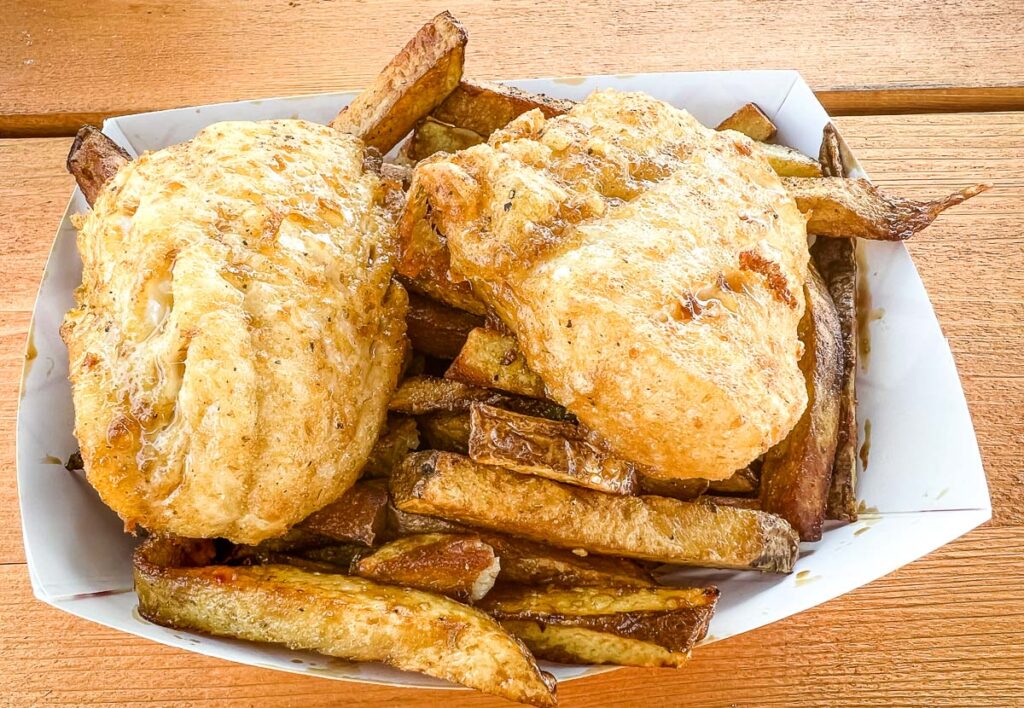 We were also offered a bunch of things not on the menu, including some picks that you don't usually find away from coastal areas.
I was also intrigued by their Island Poutine which features poutine with the bonus of jalapenos and pineapple.
Dining at Ago's Boat Fish & Chips
Shondell has big plans for Ago's, but for now, while it's warm, he's got some fine picnic tables and seating out front. There are games to play while waiting, or just let the kids run amok on the grass. A tent was there to keep the sun off us on that warm July day.
How Long Does It Take To Eat At Ago's Boat?
Everything is made from scratch and to-order, so if you're looking for drive-thru fare, this isn't the spot for you. It took about 15 minutes for our meal to be ready, but it was fresh, hot, and oh-so good.
Family-Friendly
Ago's is totally family-friendly; in fact, with table-top games and plenty of room to roam, this is one of the most family-friendly restaurants in Waterloo!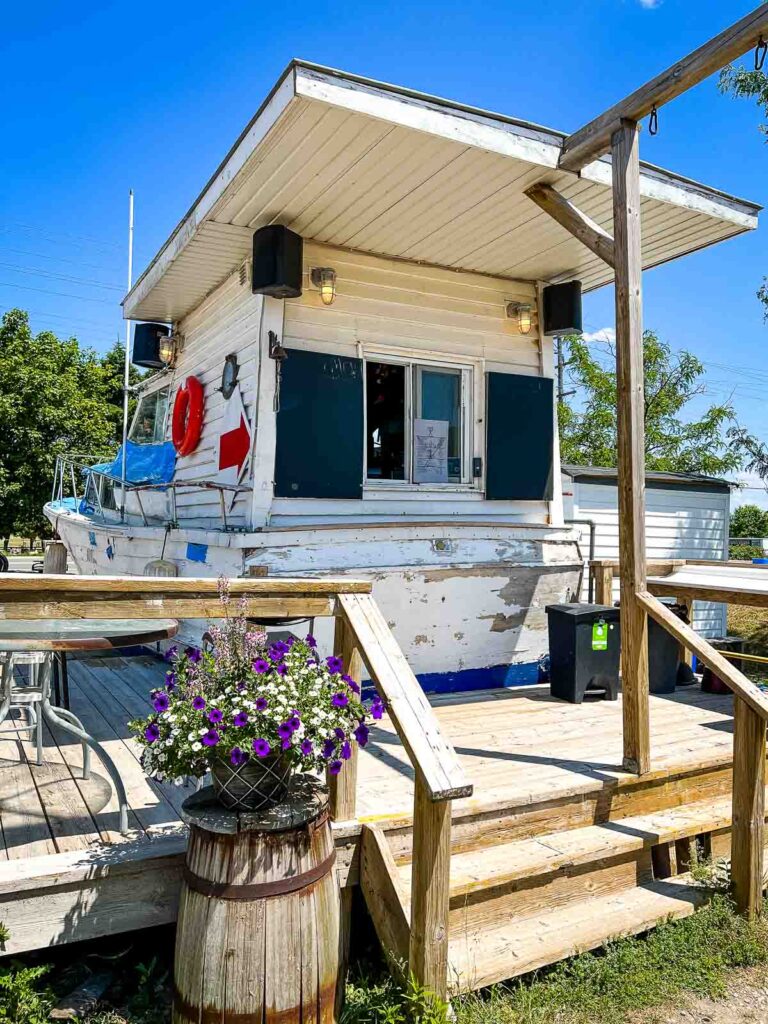 Upcoming At Ago's
Shondell has big plans for Ago's and told us about upcoming events, including:
Tuesday movie nights
Live music on Saturdays
Fish Friday's with big flavors and some of his Jamaican specialties (forthcoming)
We were there on a Sunday afternoon, and he had a steady stream of customers.
Where Is Ago's Boat Fish & Chips?
Ago's Boat is in the corner of the parking lot right behind St. Jacob's Market off King Street, and you'll find it next to the colossal antique store.
Contact Info for Ago's Boat Fish & Chips
The Bottom Line:
Highly recommended! It's not cheap, but then made-to-order seafood never is. Bring your wallet and treat yourself to a meal that's as good as any you'll find on the coast! A real gem of a restaurant in Waterloo, this spot is a must-stop, and say hi to Shondell while you're there!
Have you eaten at Ago's Boat? Please drop your comments about your experience, below!