"Obsessively Local" is the tagline at Borealis Grille & Bar, a convenient, spacious, and popular Kitchener eatery. Matthew and I visited at the end of May and had a delightful dinner. Curious about this long-time eatery? Read on to hear about the menu, prices, service, ambiance, and more!
Obsessively local is how Borealis Grille, a long-time Kitchener restaurant, describes itself. And, after a quick peek at the menu, I can indeed confirm that the focus is on locally-sourced ingredients. The menu is refreshing – focusing instead on Ontario ingredients instead of frou-frou globally sourced exotic choices. But, I'm getting ahead of myself. 
Borealis Bar & Grille – Location
Anchoring a strip mall in far south-east Kitchener and not far from the 401, this is a spacious, unique, and friendly spot to dine. Unlike many Kitchener eateries, parking isn't a concern. The restaurant shares a large parking lot with other businesses, so even if you don't score a front spot, you won't have to walk far.
The front of the restaurant is hard to miss, with their name and logo splashed across the front of it, but what really drew our attention were the two large outdoor patios – one on either side of the front door. The patios were partially covered and charming, and we made a mental note to return for some al fresco dining.
We were warmly greeted in a small entryway and noticed a large bar area to the right. There were also tables there with a few people dining – a necessity for those with accessibility issues because we were led up a few steps to the main dining room.
A Historic Landmark
Here's where the real charm began. You see, Borealis Grille & Bar is housed in a historic school house. They've retained the original floors and walls, and true to the theme of keeping things local, as we were told by our server Luigi with a pronounced Italian accent, that everything in the room, except for himself, was made locally.
A quick look at the wine and drinks menu revealed a selection of Niagara wines and cocktails featuring local spirits. I opted for a glass of wine while we settled down to explore the menu.
Borealis Grille & Bar Menu
I was intrigued by the Potato, Cheese & Ale Soup from the specials menu, and Matthew opted to try the Baked Ricotta. He's a honey lover, and this creamy dip was served with fresh honeycomb on top. Both starters were lovely – the soup was rich and thick and creamy, and the dip was hot and cheesy.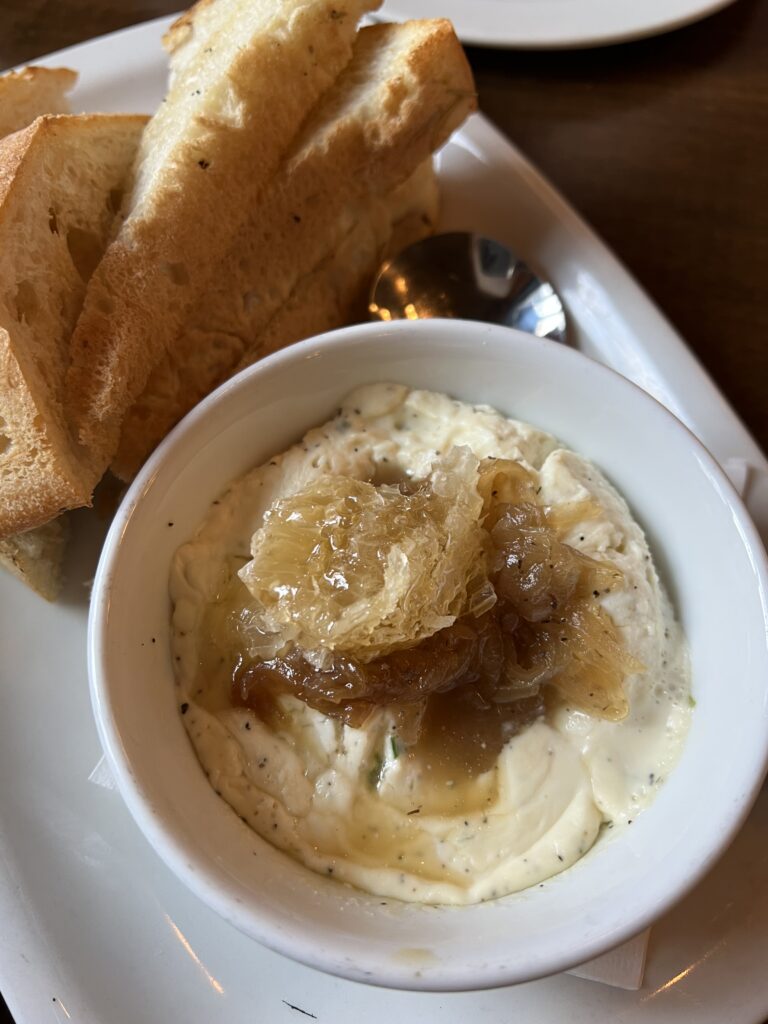 For our main dishes, I enjoyed the Braised Short Rib. It was served with tender potatoes and broccolini (I had some questions about the broccolini being locally sourced), both of which were perfectly prepared. Matthew's Chicken Supreme, a dish that is often neglected by chefs and is often only on the menu to appease chicken eaters, was also terrific. It had many interesting components on the dish, including what I'm guessing was cauliflower puree, and it was topped with an apple-fennel relish. Asparagus was the green veggie on the plate, and he got the same yummy potatoes. 
Of course, we had to try dessert. The Apple Walnut Upside Down Cake was OK, but the sauces on top elevated the dish into one that I'd order again.
There were also a variety of sandwiches, salads, and bowls on the menu. I will spare you my rant about bowl meals other than to just say that I wish this fad would fade.
Service
All in all, it was a pleasant meal. Service was relaxed and unhurried if a wee bit slow. We were informed they had a wedding party in the private room and the kitchen was, as chefs like to say, "in the weeds." As we had no kids with us, we didn't mind. If I had little kids with us, I'd have been grumpy at the wait.
Is Borealis Grill Kid-Friendly?
Speaking of kids, this was a kid-friendly spot. There were some families with kids, and with about 30 tables in the main dining room, the noise was at a tolerable level thanks to the very tall ceilings. 
Borealis Grille in Kitchener – The Final Word
Prices were reasonable, portions were generous but not obscenely large, and Luigi was the star of the dining room as he made his way from table to table chatting, serving, and making jokes.
We'd go back especially to try their Date Night 3-course sharing menu, or for Happy Hour as the bar was spacious with both bar and table seating (regular tables and high-tops). 
With tax and tip our meal came out to about $120. Not cheap, but a reasonable value considering we had 2 appetizers, 2 entrees, a dessert, and one very large glass of wine.
There's another Borealis Grille location in Guelph if that's closer to you.
Have you been to this restaurant? We'd love to hear how about your experience – please tell us below!
Borealis Grille & Bar
4336 King Street East
Kitchener, Ontario N2P 3W6
(519) 219-9007