Stunning lavender, an amazing boutique, and an afternoon of sunshine and fresh air await you at Hereward Farms. Julie is the gracious host and owner, and she makes everyone feel welcome at this fabulous country lavender farm.
Visiting the famous lavender fields of Provence, France, might be out of the question, but did you know that Ontario is home to some simply stunning lavender farms? Hereward Lavender Farm, outside Grand Valley (near Orangeville), is one such farm, and we spent a lovely afternoon there enjoying their excellent Nibble & Sips package.
Home to 6,000 lavender plants (give or take a few), this is a passion project for Julie, the owner. She was a gracious host, filling Matthew and me in on some of the details about her lavender farm and boutique that offers "farm to skin" all-natural products for your home and skin. She also told us that we were standing on land her husband's family bought after they came to Canada during the potato famine in Ireland. In addition to their own, there are several other working farms in the area.
It was lovely to stroll the field, checking out the differences in the three kinds of lavender that Julie grows. Then, we sat down for our feast and a cold drink.
Nibbles & Sips – Charcuterie and Wine in a Lavender Field
I came across Nibbles & Sips when checking out lavender farms in Ontario! As a food blogger, cookbook author, recipe developer, and food photographer, if there's food involved, you've got my attention! Promising a box of charcuterie for each guest plus a small bottle of wine (we had our choice between Prosecco and both red and white wines), and with lavender bushes in the backdrop, how could I resist!
The package was $100 plus tax, and included a 25$ gift certificate for the boutique, 2 small bottles of wine (1.5 glasses of wine size bottles), 2 individual-sized boxe of charcuterie, and all the time we wanted in the lavender fields. There are 2 seatings – afternoon and evenings – in case you want to picnic in the lavender during the sunset.
Pick-your-own lavender wasn't available at the time, so call ahead if you're hoping to pick your own lavender.
We drove out to her farm (there's plenty of parking) and met Julie, who led us to our field-side table. Some couples opted to eat on a picnic blanket among the rows of lavender, and Julie even supplied guests with pillows! Perfect for picnicking, the weather was lovely, and we tucked into our charcuterie boxes.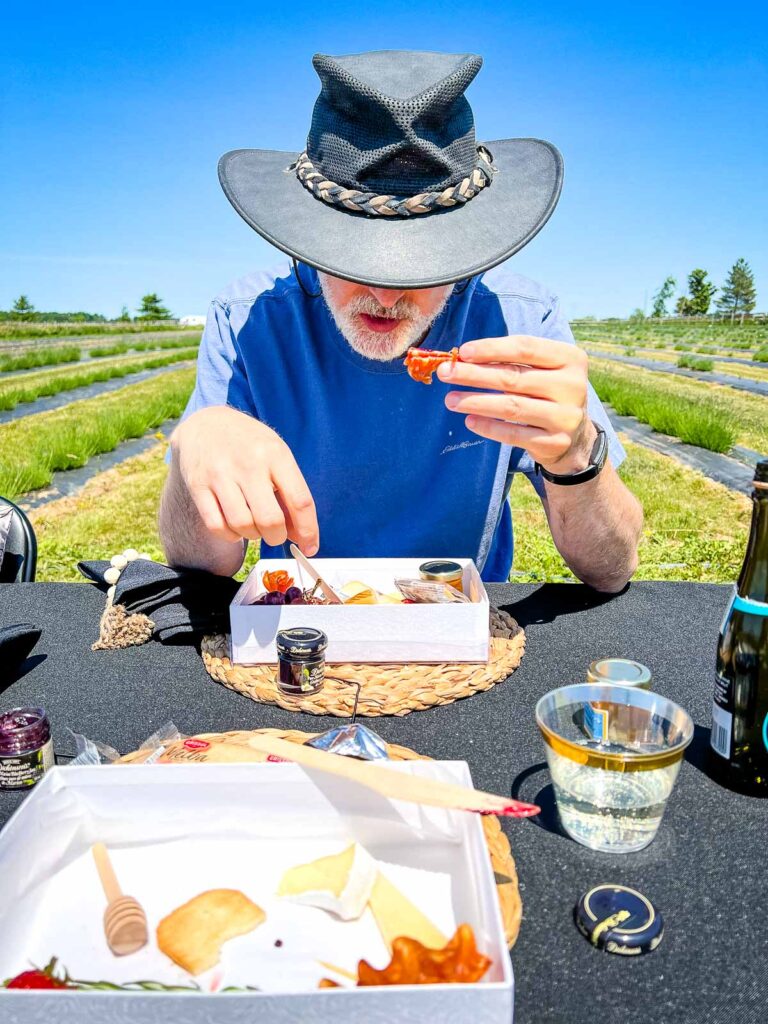 Hereward Farms partnered with The Olive Box to provide the amazing charcuterie for the lavender field picnics. The boxes were fabulous! There were some meats, 3 different kinds of cheese, honey with adorable honey dippers, a little jar of jam, some fresh fruit (berries and grapes), crackers, and more! It was the perfect snack size and we loved every bit of it!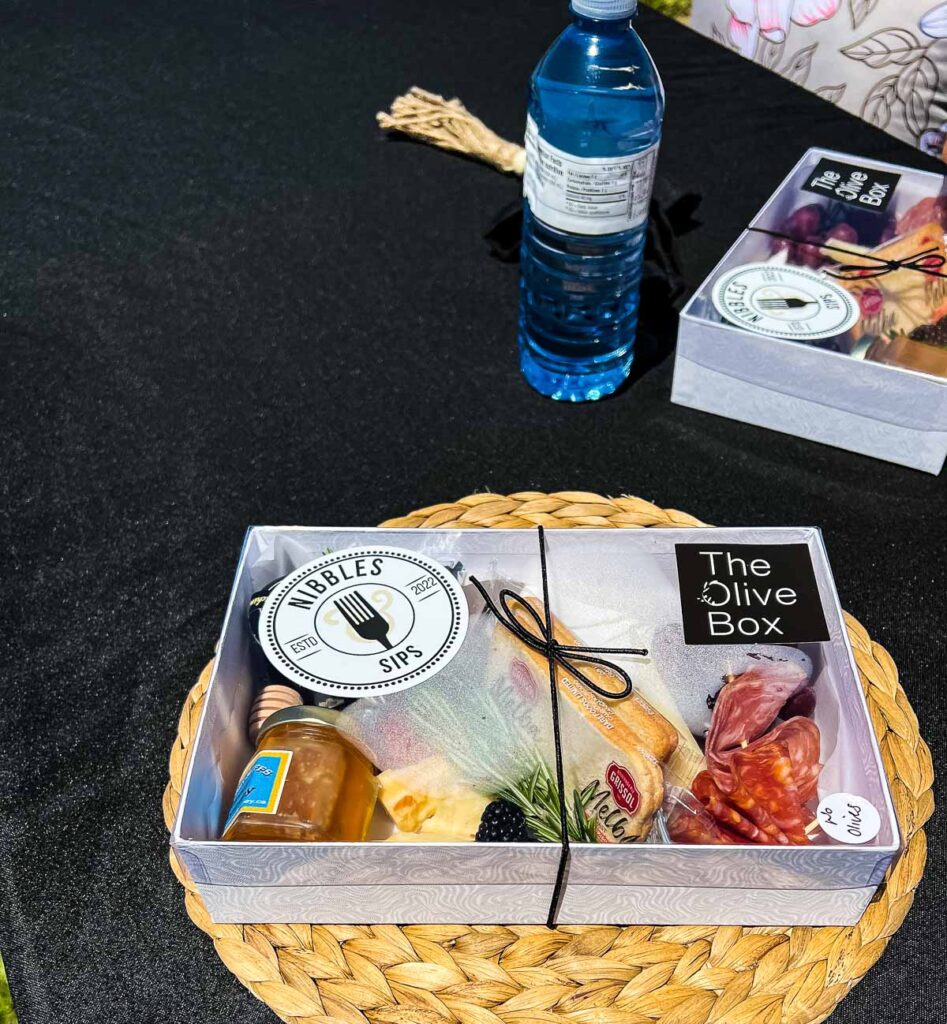 Fields To Skin Boutique
We headed up to her boutique (it's on the second floor and there may be accessibility issues) and wow, I wasn't expecting such a spacious area! Not only is the second floor of the building dedicated to her boutique, but there's a meeting space and lounge area upstairs, too.
The boutique was filled with lavender everything! From soaps and candles to cookies and sprays, there's plenty of Hereward Farms lavender products to tempt you. There's plenty of dried lavender, too, of course. There are also products from other local crafters, so ensure you have enough time to check it all out!
Julie told us she makes all the products right there upstairs. She's got her work station all set up and visible to any guests that might be there while working. She hopes to be able to offer workshops, perhaps in the colder months. She also ship her products all across Canada, so you can shop from behind your computer or on your phone.
The Final Word
Spending time in the lavender fields, shopping in her boutique, and nibbling on charcuterie is the perfect way to spend some time at Hereward Farms. There was a Pick and Paint event going on while we were there, and there are more events scheduled. Take a drive and tour the lavender at this amazing farm!
Have you visited Hereward Farms lavender? Please drop a comment below and tell us about your visit!
Heward Farms – The Details