Calling itself a "seriously local gastro pub where local fresh food is (our)passion," the Fergusson Room Pub is a cozy and inviting restaurant attached to the Breadalbane Inn in downtown Fergus.
Matthew and I enjoyed a terrific dinner at this cozy spot with plenty of charm and charisma, and if you're looking for a tasty spot to dine in Fergus, we recommend this local gem.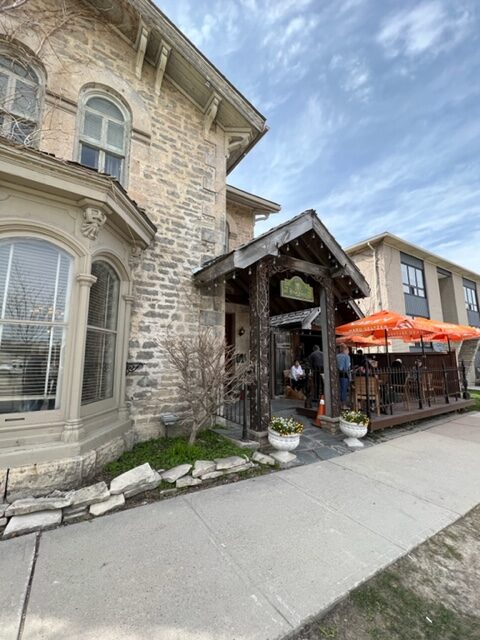 Ambiance
I loved the look and ambiance of this cozy eatery. It had a large and spacious bar area at the front of the pub that could open up to the outdoor patio. Inside, it was reminiscent of an old English pub. It nestled up against the side of the Breadalbane Inn, and the shared wall was stone and gave the whole space a timeless vibe.
The Food at The Fergusson Room Pub
Fergus is never going to be on the culinary map for Southwestern Ontario, but this local gem had plenty on the menu and what we had was delish. If you're wondering where to eat in Fergus, this spot is sure to satisfy you.
True to the region, schnitzel is featured on just about every pub menu we've come across, and so I had to try it. WOW! This had to have been the biggest piece of schnitzel I've ever had! It literally covered up the whole plate and nestled underneath was a pillowy mountain of mashed potatoes and some veggies.
The schnitzel was thin, crispy, and piping hot. It was served with a tiny bit of sauerkraut, a lemon wedge, and a wee bit of sour cream. I'm sure they'd have been accommodating if I asked for more.
Inspired by the decor and ambiance, Matthew opted for the Inn Bangers and Mash and got a plentiful portion of house-made sausage, mashed potatoes, and veggies.
Oh, and I shared a bowl of French Onion Soup (it was chilly and I was cold) with Matthew. It was a lovely soup with the requisite cheesy topping. I particularly liked that it wasn't over-salted, and the onions were nicely caramelized.
We didn't have dessert, because Matthew had to help me finish my meal – the schnitzel was just that big – plus his own meal, and we were stuffed.
If you've eaten here, we'd love to know what you think! Please drop your comments below!
Beverages
Beers on tap were varied and plentiful, and sharing a wine cellar with the Breadalbane Inn, the offered wines covered all the bases, but there was no wine list to speak of and we had to go with what the server remembered. I guess this is mostly a beer spot.
Is The Fergusson Room Pub Kid-Friendly?
I'm not sure this is the place I'd bring my kids. It is a long, narrow restaurant with cozy tables along either wall and a walkway down the middle. Perhaps if you were to sit out on the patio it might be easier to deal with kids.
Noise Level at the Fergusson Room Pub
We were there at the peak dinner rush on a Friday night and while there was a lively background hum, Matthew and I had no trouble talking to each other across the table. There was background music and some TVs around, but the noise from them was minimal.
The Final Word
This Fergus restaurant was a great pick and the perfect spot to relax and unwind. Casual, affordable, and friendly, I'd go back again if I were in Fergus and looking for somewhere to eat or to sit back with a cold beer.
Have you eaten here? Please drop your comments below – we'd love to hear about your experience dining at the Fergusson Room Pub in Fergus, Ontario!
More Info
You can find the Fergusson Room Pub online.
Address: 487 St. Andrew's Street West
Phone: (519) 843-4770
Reservations: There's not a lot of seating – I'd recommend calling ahead if you're going during peak times.