When I heard that Cambridge favorite La Lola was moving to KW and having a soft launch, I knew I had to snag a table. On Friday night, their second night of being open, Matthew and I headed over to this cozy spot for a delish meal and terrific hospitality. Curious about the food and story behind this gem? Read on – I've got all the details and a review of La Lola!
The TLDR version is to book your reservation now! This charming, locally owned and operated spot is going to be a popular spot to grab a glass of wine and some terrific eats!
Location
Unlike some KW restaurants, La Lola is easy to get to and has plenty of parking. They're at the bottom of the Charles & Benton Parking Garage with the entrance on street level right across from the Crowne Plaza. The entrance to the parking lot is on Charles Street, and if you park on level 2 near the street exit, you'll be steps away from La Lola.
Ambiance
La Lola has perfectly captured the Spanish tapas bar ambiance and recreates it for eager diners. The restaurant is small and cozy, with just room for 18 at tables and another 6 at the bar along the brick-lined wall that separates the restaurant from the kitchen. It is intimate – and while not exactly shoulder-to-shoulder, it's small but still comfortable. The red and black color scheme along with the art on the wall make it a lively spot to sit, relax, and enjoy a glass of wine and some fabulous tapas.
The Story
I had the pleasure of chatting with Vanessa who co-owns La Lola along with her husband, Miguel. She told me that after training Spain, Miguel wanted to open a Spanish restaurant in Cambridge, and they opened just a few months before COVID. After that, like many restaurants, they were forced to pivot, and were struggling to raise their young family and to keep their business afloat during COVID. Fast forward a few years, and they noticed that most of their clientele was coming from KW, so when they had a chance to pick up and move, they did!
La Lola is first and foremost a tapas bar. At the time of our visit they were waiting on their liquor license, but Vanessa tells me that they'll be featuring Spanish wines and cocktails. She's working hard to source interesting Spanish wines that you won't find at the LCBO, and the cocktails will feature Spanish flavors as well.
They also offer take-out and catering services, and she was excited to tell me about the little shop they'll have on-site where you can get your favorite Spanish ingredients and products.
Paella wasn't on the menu during their soft launch, but she assured me that it'll be a regular part of the menu.
The Food
Like many authentic Spanish tapas restaurants, La Lola's menu was on a chalkboard and Miguel will be changing it up weekly, if not daily. When we visited, we had the option of Patatas Bravas ($12), croquetas ($15), salmon torta ($15) a brie & caramelized onion torta ($12), albondingas (aka meatballs), charcuterie ($28) and cheesecake for dessert ($6). We opted to try all but the charcuterie.
Also offered are cold tapas which will be available after the kitchen closes, in case you're out late for drinks and snacks.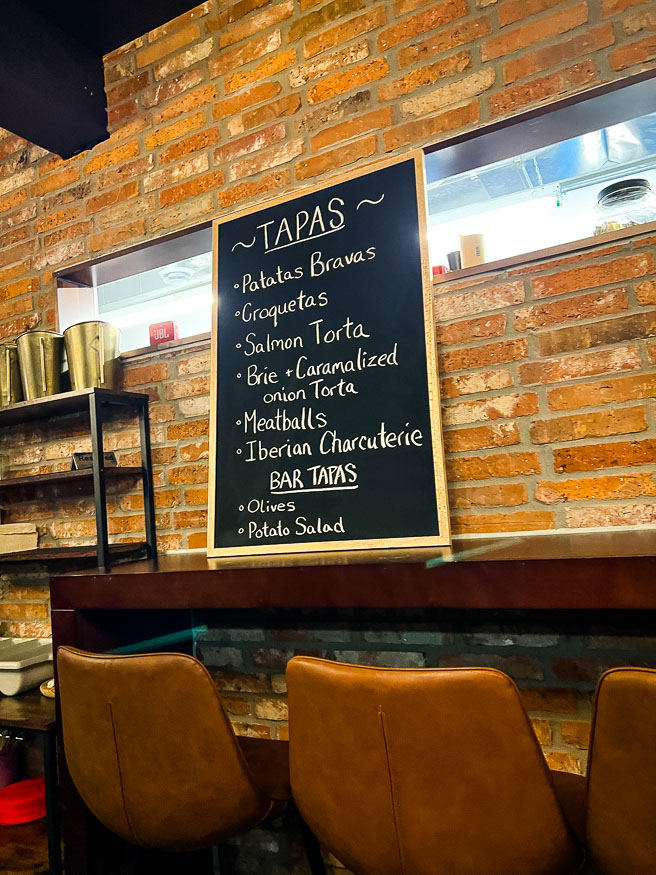 The food was fresh and fabulous. We opted to have a couple of courses come out at a time, so that we could chat and linger over our meal.
After we were seated and placed our order, we were presented with a complimentary tapa. It was a potato and tuna salad and it was light and refreshing and tasty. We could have used an extra slice of bread, but it was tasty and unexpected, and a great way to start the meal.
Next came the patatas bravas that were drizzled with an umami-rich sauce and I could taste the paprika and chiles in it. They were delicious! Following that we had the meatballs which were tasty and in a lovely sauce. They were served with fresh bread which was perfect for mopping up all the sauce. Next came the salmon torta. Vanessa told me that Miguel's salmon is cured, not smoked, and it will probably always be on the menu in some form or another. I can see why – it was delicious! It was light and flavorful, and the torta was thin and crisp and the perfect vehicle for the food.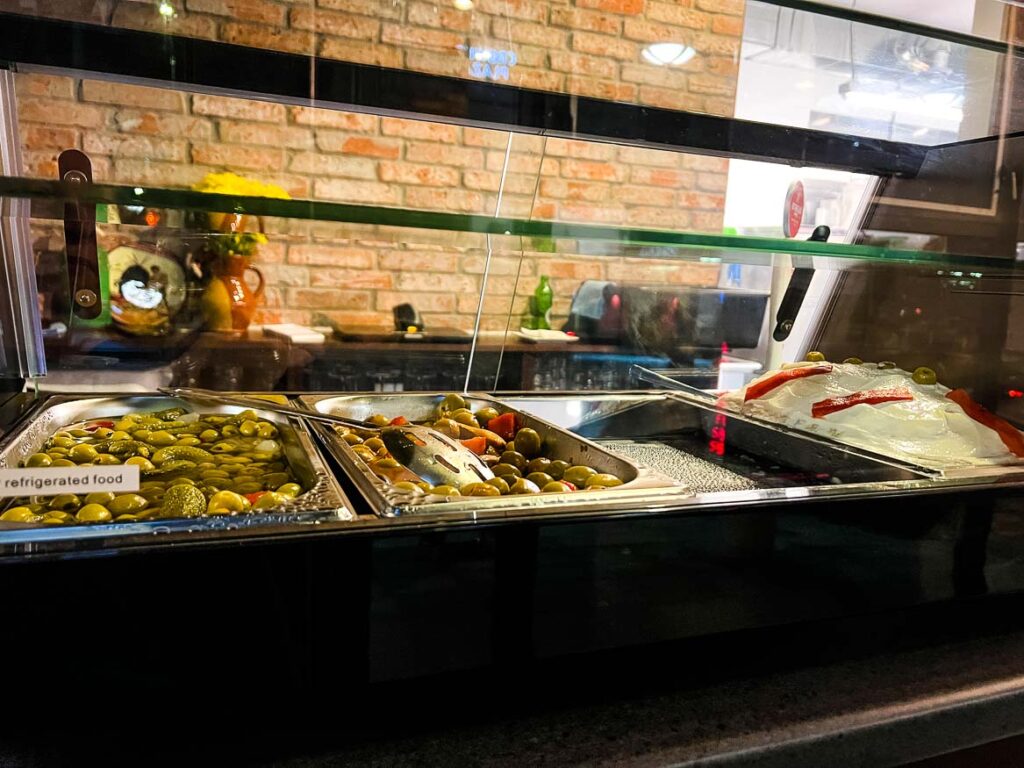 Also presented on a torta was the brie and caramelized onion – who doesn't love that combo? Drizzled with honey, it was pretty darn tasty!
I think the real star of the show, however, were the croquetas. I've had my fair share of croquetas, and these were mighty fine! They were bechemel-based, rather than potato, so they were creamy and light and fabulous. We opted for the ham croquetas, but also offered was a mushroom croqueta, featuring shiitake mushrooms. I would have liked more ham in the croqueta, but they were the perfect combination of crispy on the outside and creamy inside. Yum!
No matter what you order, save room for dessert. Miguel's grandmother's cheesecake is amazing! It is light and fluffy while still being plenty cheesy. It was drizzled with a strawberry sauce, and the slice was more than enough for Matthew and I to share. A bit more sauce would have been nice – I'll be sure to ask for extra next time!
The Final Bite
I loved our meal at La Lola, and despite it being their second night open, our meal only had one small hiccup that was swiftly rectified. Our total bill after tax and before tip was $99. Pretty darn reasonable! The service was friendly and genuine, the food delicious, and you can't beat the location. Away from busy King Street and with plenty of parking, I can't wait to go back. Especially once I can sink my fork into Miguel's legendary paella! Reservations are strongly recommended – call or email them today!
Contact Info for La Lola
Address: 26 Benton Street, Kitchener
Phone: 519-504-5688
Have you enjoyed a meal at or catering from La Lola? Leave your thoughts below in the comments!