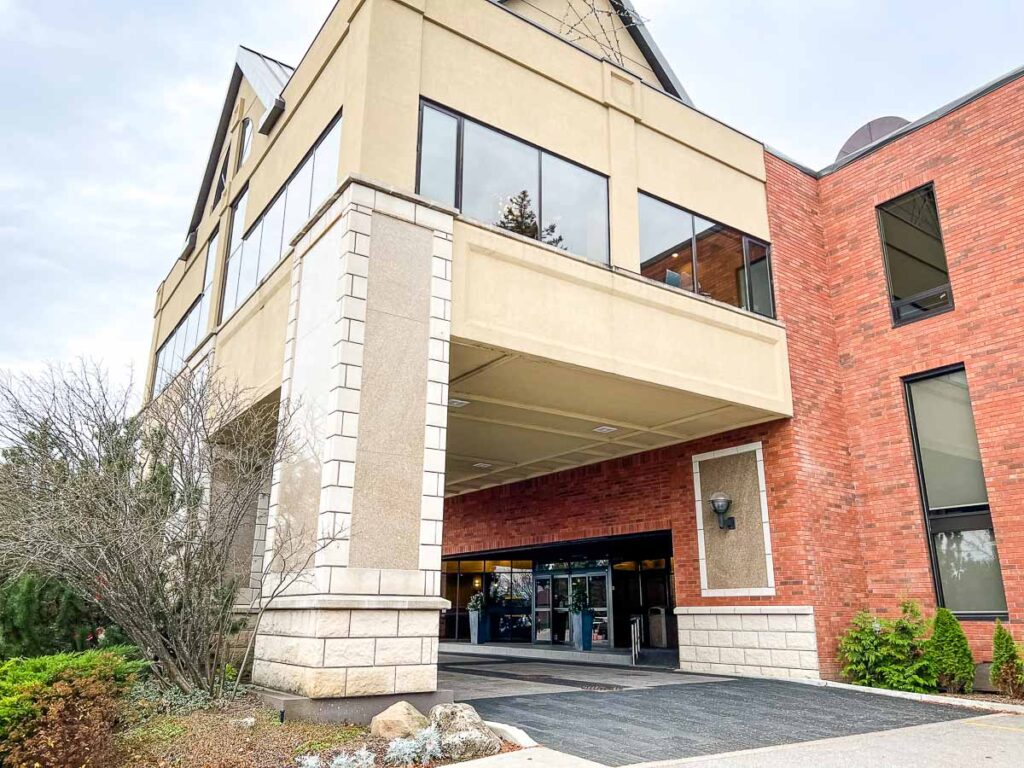 Allison, a small town about an hour north of Toronto, is a hidden gem when it comes to family-friendly getaways or weekend adventures for foodies. Home to a large Honda plant, lots of subdivisions, plenty of outlying farms, and the Nottawasaga Inn, this sleepy town may not have much, but it has plenty to offer out-of-towners in search of something different.
Located just right off Hwy. 89 on the eastern outskirts of Alliston, this is a stunning property. We drove through icky November weather and pea-soup thick fog to arrive at this lovely inn, more of a resort, at night. It was lit up with tall lamps lining the majestic driveway leading to the main building. We didn't see much of the outside until the next morning–more on that later.
The front foyer of the Nottawasaga Inn is spacious and bright, and the check-in desk is set back a ways from the revolving door. Check-in was a breeze, especially since I did most of the check-in process online before arrival.
We walked a bit to get to the elevator up to our room, and I was pleasantly surprised by the spaciousness of our room. We booked a jacuzzi room, and usually, it is a small hotel room with a jacuzzi tub squished awkwardly into a corner of the room. Not so with this room. It was large, had a huge bank of unopenable windows, and the jacuzzi tub was easily the largest indoor tub I've seen in a long time.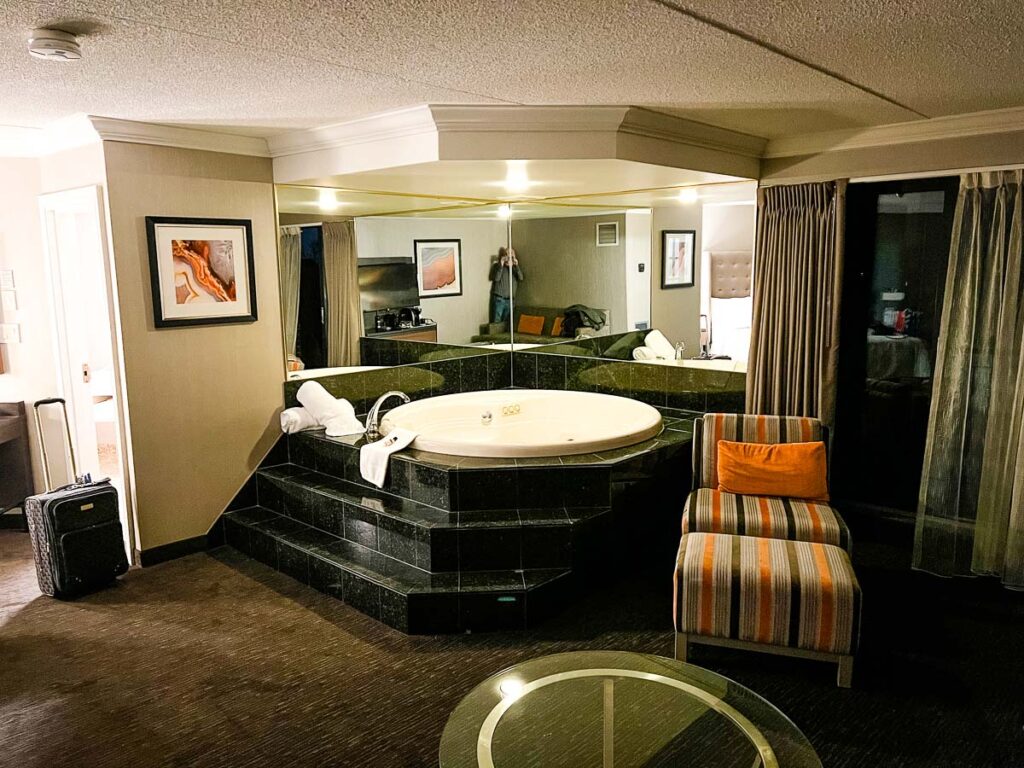 We dropped our bags and headed out to dinner.
Hot and Steamy
When we returned from dinner, I noticed the room was VERY hot. Like, uncomfortably hot. I called the front desk, and they said they'd sent a maintenance fellow to check on things. He informed us that they had just–like the day before–turned off the AC and turned on the heat, and something was not working right, and the heat was on.
Well, he did bring a fan with him.
The fan was of little use. I called back to the desk and asked to speak to the manager. He quickly apologized and transferred us to a room with a balcony where we could at least open the door to get some cool air.
Crisis adverted.
The Inn
This is a sprawling property that's, part hotel, part resort, part bridal destination, and part convention center. There's too much to talk about in one post, so I'll illuminate some of the highlights.
Weddings
I can see how the Nottawasaga Inn would be a stunning spot for a wedding. Great chefs and plenty of large rooms to accommodate wedding parties and celebrations are just a part of the charm. Plus, the grounds are gorgeous. We walked around a bit, and even though things were gray and overcast and with no greenery in November, the gardens were beautiful. Hidden nooks, a secluded pond, a little outdoor chapel–stunning.
Recreation – Sports & LeisureDome
Accessible via an enclosed walkway (with steep stairs up and down,) the recreation center is a big draw for families. Complete with an indoor jungle mini golf, games room, and colossal tropical rainforest-themed indoor water area with a 25-meter pool, 3-storey water slide, and kids play area, there's enough to keep kids of all ages busy. Don't forget about the outdoor pool for all sorts of fun in the summer.
There are spa services, a full fitness room, a pool for swimming laps, and more for the adults.
Dining & Drinking
Visiting at the tail end of Covid meant we didn't have access to the full lineup of restaurants, and their legendary Sunday Brunch wasn't offered. The Riverview Room is a large, comfortable dining room overlooking immaculate grounds. We had breakfast there, opting for their breakfast brunch. It was pricy but decent, and we left full and happy.
An onsite lounge (closed while we were there), snack bars (seasonal), and more ensure that you never have to leave the property. If none of these appeal to you, there are some fabulous restaurants and bars just a few minutes down the road in Alliston, including Gust.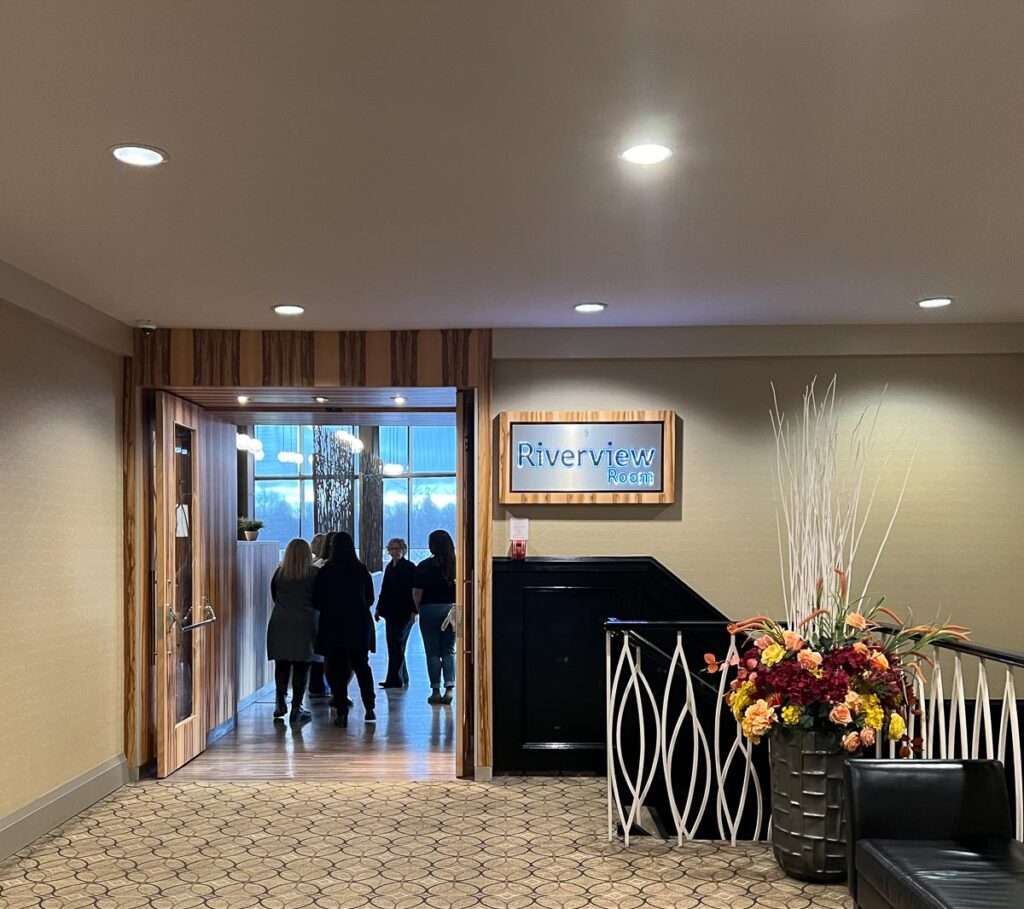 Service
We were there for two nights and didn't need to interact with any of the staff once the room issue was settled. And we didn't see any staff, either. New policies ensure that housekeeping stays out of the room during such short visits, though we could have requested assistance if we had needed it.
The Final Word
Were our kids younger, I'd have taken them to this fabulous resort in a heartbeat. With tempting packages and specials, the Nottawasaga Inn is perfect for families, couples, and everyone in between. We'd go back.
Contact Info for Nottawasaga Inn
Address: 6015 Highway 89, Alliston, ON, L9R 1A4
Phone: 800-669-5501
Have you stayed at the Nottawasaga Inn in Alliston? Leave your thoughts below in the comments!