Marked restaurant is a bustling gem in the heart of Toronto's Entertainment District. Boasting a spacious outdoor bar and seating area and spacious interior, the menu is inspired by the flavors of South America. Grilled dishes are at the forefront of the menu, but with a dazzling selection of smaller plate options, you can mix and match to build a flavour-packed meal.
It's all about the vibe and food at this stunning and unique restaurant. With an enticing sidewalk patio and outdoor bar, it's the perfect spot on a sultry summer evening, which is when we decided to check out this restaurant. What follows is an unbiased, unsponsored review of Marked restaurant.
The Ambiance
Marked is posh and chic, channeling a Miami-like vibe with both loud music and bright colors. The seating is comfortable, the servers are friendly, and there are plenty of booths, tables, and bar seating available. It was warm in the restaurant, thanks to the open-air bar bringing in the hot summer night air, and I was getting a little sweaty on the vinyl chair.
It did get a little loud toward the end of our visit. The music volume was high in the dining room, and it was a mish-mash of 80's music meets Latin vibes, and when the restaurant filled up, conversation across the table became difficult.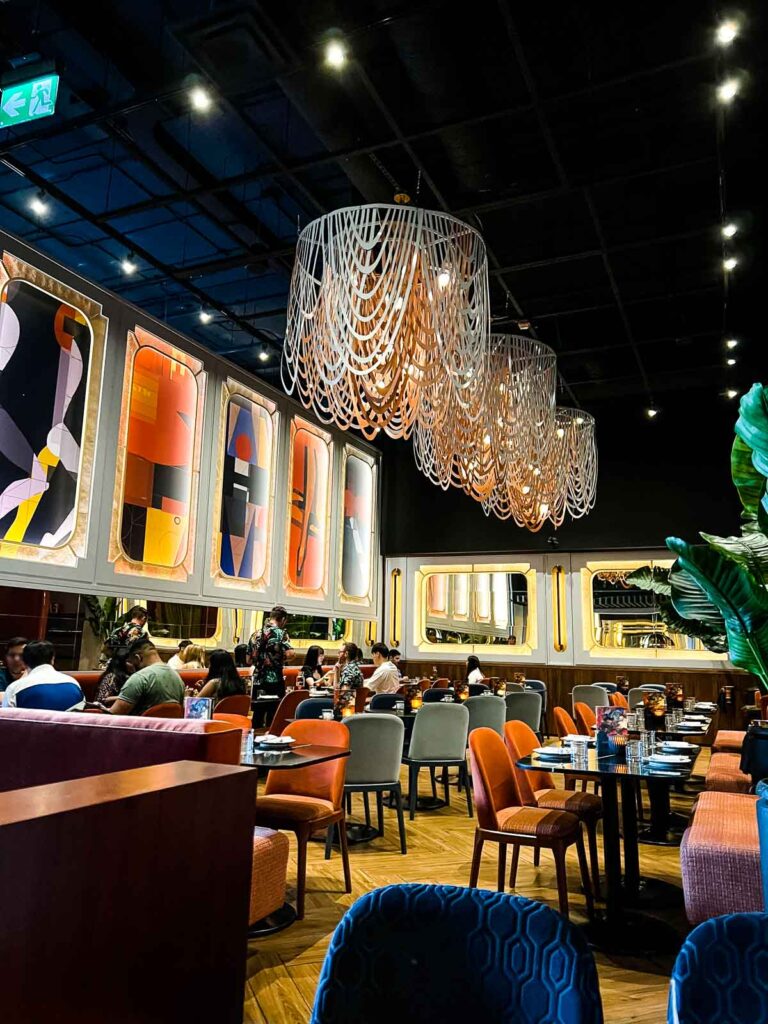 The Food
I picked Marked for the food, and it didn't disappoint. Informed by our server that the dishes are designed to be more small plate-style and for sharing, we ordered quite a few dishes to try (scroll to the bottom for a picture of the menu).
Notably absent from the table was any sort of bread or crackers or chips to nibble on before the meal, but we didn't have to wait long before tucking into the first dishes.
Among the appetizers, we sampled the Corn Ribs with whipped queso fresco, dates stuffed with Manchego cheese and wrapped in bacon, and the Guasacaca, touted as a Venezuelan avocado dip.
Who can resist sweet and salty dates? They were delicious, as were the corn ribs with the whipped queso fresco that I could have eaten a gallon of. The Guasacaca was less of a hit – it was a thinner, oilier cousin to guacamole that just seemed to miss the mark at our table. I blame eating Mexican-style guacamole in Texas for 20 years for my prejudice.
Portions are on the small side, so we were glad to have ordered a few things. Next up, we eagerly awaited our pick of entrees. Our daughter chose the Shrimp a la Parilla, Matthew went with the Picanha, and we ordered a side of Biro Biro Rice, a combination of chorizo, rice, and black beans.
Marked certainly scores big for presentation and sauces. Each dish was stunningly presented, and the sauces had me fending off the servers (quite literally as the service was a bit over-eager) until I had scooped up every drop of sauce off the plate.
The Picanha was tender and delicious, but at $42 for a smallish portion, I felt that the portion could have been larger or included a side. The shrimp dish was more in line with portion and price, coming in at $29, and it was terrific. I REALLY wanted to love the rice. The fried cassava on top was a delicious touch, but the rice was too salty, bordering on inedible. We informed the server who comped this dish, and said she'd pass the info along to the kitchen.
Our daughter was holding out for dessert, and it was fabulous. The ice cream that came with the Alfajores dessert was caramelized banana and was insanely good. The chocolate hazelnut cake with it was also fabulous, but that ice cream stole the show.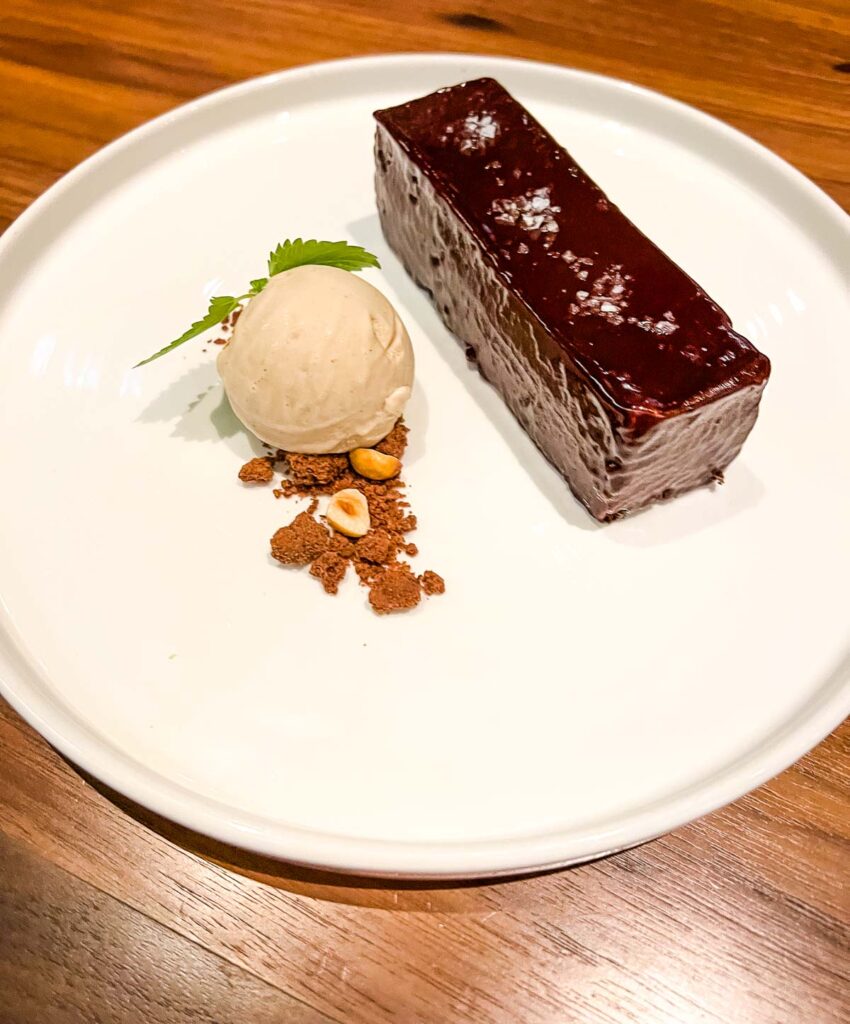 Service
Service at Marked was friendly and proficient, but with a "keep tables clean" philosophy, I had to tell six different servers six times that we weren't done with the shrimp plate. To be fair, it looked like we'd eaten all the shrimp, but with a team server mentality, having to tell six different servers the same thing got a bit tiring. Other than that, zero complaints.
The Bar
Oh, how I'd love to be back in my 20s and living in Toronto! I'd be a regular at this bar, I'm sure! With a stunning inside/outside bar and amazing drinks, it's no wonder that it filled up quickly. I did order a cocktail, opting to try the Adios, Mon Ami, a concoction of Mezcal, St-Germain, and several bitters. It was strong and refreshing and totally hit the spot.
Is Marked Family Friendly?
While we didn't notice many kids around, there's no reason not to bring the family to this lively eatery.
The Bottom Line
We're glad we tried Marked restaurant. Is Marked expensive? Yes, but tell me a Toronto restaurant that isn't. The food is creative and delicious, the service was (mostly) on-point, and the vibe was unique, setting this vibrant restaurant apart from other downtown eateries.
Contact Info for Marked
Address: 132 John Street, Toronto
Phone: (647) 660-7948
Hours: Open daily for dinner and weekend brunch
Facebook: https://www.facebook.com/MarkedRestaurant
Have you visited Marked? Drop your comments about this eatery below!