If you're looking for a cool beer to quench your thirst but want to try something different from the usual brands, Block 3 Brewing Company may be just the ticket. With both on-site service for walk-in customers and delivery or shipping to more distant addresses, these craft beers may become your new favourite!
St. Jacob's is a picturesque town north of Waterloo, and it's filled with all sorts of must-try spots. Even if all you're doing is walking the main street, there's plenty to see. But you're sure to work up a thirst with all that walking, and when you do, wander up toward the north end of King Street, before you get to the Conestogo River, and pop into Block 3 Brewing.
This is a locally owned spot that believes that great things come in small batches, which is why every batch of beer created on-site at this St. Jocob's brewery is made small batch-style.
Artisan Beers and Ciders In St. Jacob's
Block Three Brewing Co. is a community-focused brewery and bar that takes great pride in brewing great beers. Each batch starts with the best and finest ingredients, and they source local ingredients whenever possible. The results are unique and refreshing quality craft beers.
Plenty Of Choices
It was hot when we were in St. Jacob's, and the sun was beating down. I was drawn to this spot because of its inviting patio that offered plenty of shade from the umbrellas. Matthew grabbed a table, and I wandered downstairs into the brewery itself to check out the offerings.
There were plenty of beers to pick from, and they were all listed above the bar. I opted for a flight and asked the barkeep to surprise me with a selection of beers and one cider.
They were all terrific! Ranging from light and hoppy to more full-flavored, each was just the right temperature and went down oh-so-smoothly!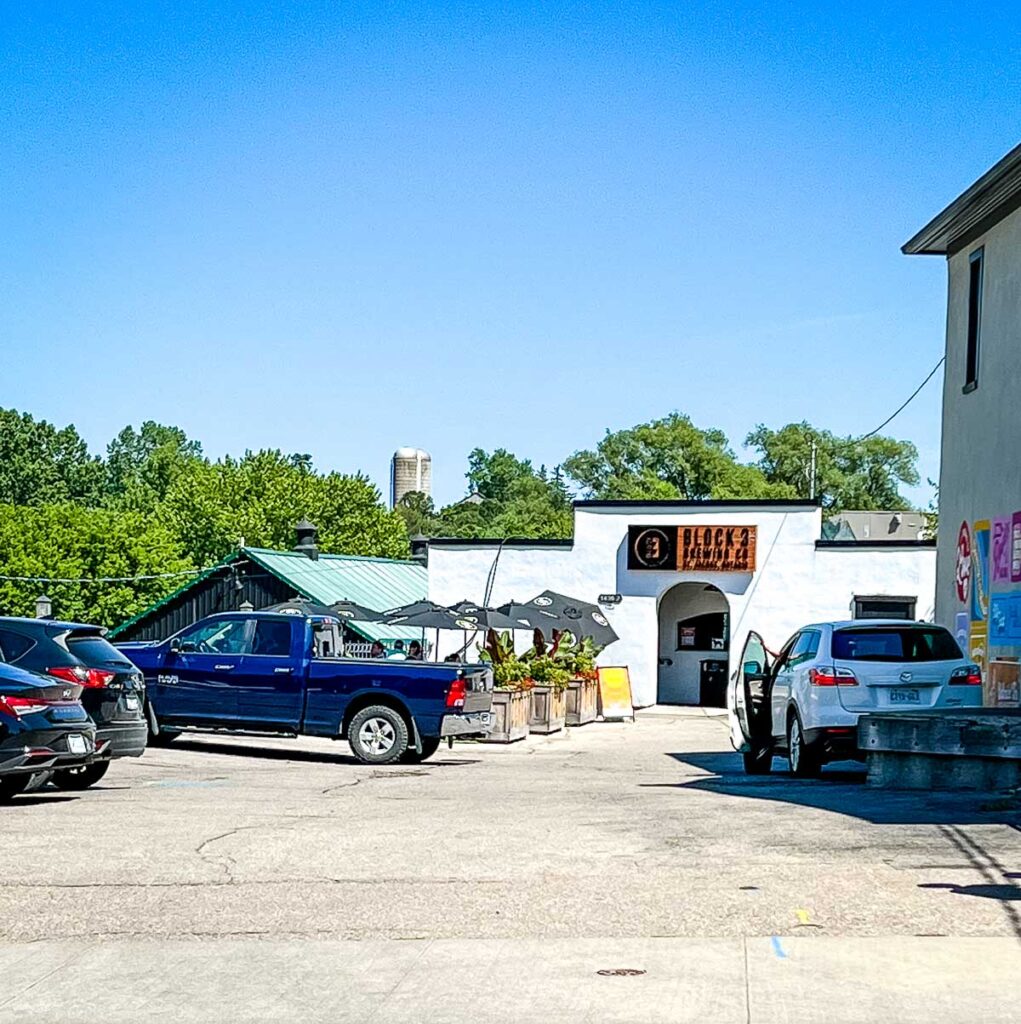 Inside Block 3 Brewing
While not cavernous, there's plenty of room inside Block 3 Brewing, making this a great all-year-long spot to grab a beer. There were many picnic table-style tables inside, colorful murals on the walls, and in the back of the space, you could see the brewing tanks where all the magic happens.
You had to go down a fairly steep and narrow flight of stairs to get into the brewery, which could pose a challenge for anyone with mobility issues.
Dog-Friendly
Block 3 is a dog-friendly spot, and we saw several well-behaved pooches while we were there. They were just chilling out inside, lying on the cool floor, and we saw a water bowl nearby.
Events At Block 3 Brewing
We saw information about live music on Fridays and trivia on the 1st Tuesday of the month. Check out their Facebook page for more info!
Where Is Block 3 Brewing Company?
Block Three Brewing Company (aka Block Three Bottle Shop) is just off of King St. N in St. Jacobs, ON, across from the intersection with Front Street. There is a small parking area right in front of the brewery, as well as a much larger public parking area behind it and to the north (along the shore of the Conestogo River). Look for the brewery sign on King Street, or you might miss the brewery because it is tucked back off the road.
Contact Info for Block Three Brewing Company
Address: 1430 King St, St Jacobs, ON N0B 2N0
Phone: (519) 664-1001
Hours: Opens at 11 am daily – closing time varies by day – check their website or call ahead for details – subject to change)
Facebook: https://www.facebook.com/blockthree
The Bottom Line
Friendly, casual, and with a stellar selection of artisan brews, this is a terrific spot to grab a beer with family, friends, or someone special!
Other Must-Try Spots
Have you gotten a drink from Block 3 Brewing? Please drop your comments about your experience below!