I was just a kid when Bluebird Cafe opened up in Orangeville, Ontario, and not too long ago, Matthew and I were in the area, so we stopped by for a meal. I'm pleased to say that this charming original is just as good as it ever was.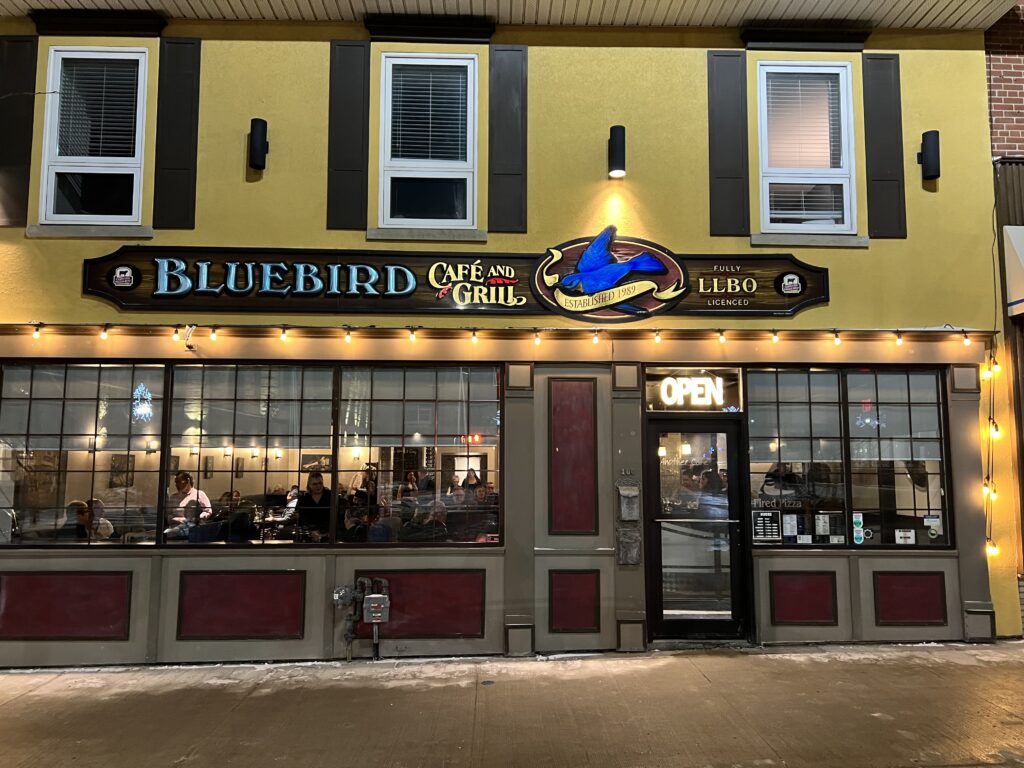 Right on Broadway in downtown Orangeville, Bluebird Cafe is a longtime favorite that hasn't lost any of its charm or deliciousness. We were in the area for a weekend at the Millcroft Inn & Spa when we decided to head into Orangeville for dinner on a very cold January night. I think we got the last table – this place was hopping! Be sure to make reservations so you're not left out.
The Ambiance
We arrived a bit early, so we snagged the last two spots at the cozy bar and hand a drink while waiting for our table. On the right side of this restaurant, just past the door, is a bar area, with table and booth seating to the left. It is cozy but too big to really be intimate but not big enough to be overwhelming or too loud. It is somewhere around just right if you ask me.
The Food
Everything at Bluebird is hand-crafted, and you can tell. Great care is taken with every meal, and the menu options feature Italian dishes and familiar favorites. I was pleased to see that some of my decades-old favorites were on the menu, and after chatting with the owners a bit, they told us that some of the original kitchen staff are still working there. How often do you see that? We're talking maybe 40 years! Known for pastas, wood-fired pizzas, grilled steaks and other Italian favorites, there's plenty on the menu here to please most people.
One of the things I love about the menu at this cafe/restaurant is that most dishes come with sides. So you can get a steakhouse quality steak and not have to worry about paying extra for sides. Trust me, that can run your bill up fast! The prices at Bluebird are reasonable, and the quality is fabulous.
It was bitter cold that night, so I started with French Onion Soup. It was loaded with onions and had a terrific cheesy top on top. Matthew opted for the Caesar salad which we split, and they kindly split it in the kitchen for us. Bread and butter were abundant, which is always a good thing because Matthew was hungry!
For dinner, I had the smoked chicken and gnocchi special, and boy, was it good! I've made something similar, but this was delicious! The gnocchi were plump and fluffy, and their sauce, like all their sauce work, was on point. Matthew was thrilled with his dish, too. And look at all the veg under that big hunk of chicken! It was a little odd to see potatoes with it instead of pasta, but he had no complaints. The dessert, a baked banana wrapped in phyllo and served with ice cream, was tasty and unique and the perfect finish to our meal.
The Service
I tell you, other restaurants could take a few pointers from this gem. The service was spot-on, and the owners were on the floor, ensuring everything went during dinner service without a hitch. When they found out I was a longtime fan, they stopped by to chat. I may have been a bit more sentimental than normal, but after just having had a ho-hum dinner at Headwaters Restaurant the night before, I was relaxed and having a great meal. I just wish they were open for lunch the next day because we'd have gone back.
The Final Word
When you want to dine out in Orangeville, you can't go wrong with Bluebird Cafe. The service, food, quality, and value are all stellar, and with more than 40 years of operation, they're obviously doing it right. Make a reservation because this local spot gets busy!
Contact Info for Bluebird Cafe & Grill
Have you visited Bluebird Cafe & Grill in Orangeville? Leave your thoughts below in the comments!