Millcroft Inn & Spa in Alton has been wining and dining and housing guests forever. This is a Vintage Hotels property snuggled up against a river, and while it may have been considered a gem by many, I found the food, service, and overall property lacking. Read on to hear all about our stay at the Millcroft Inn & Spa.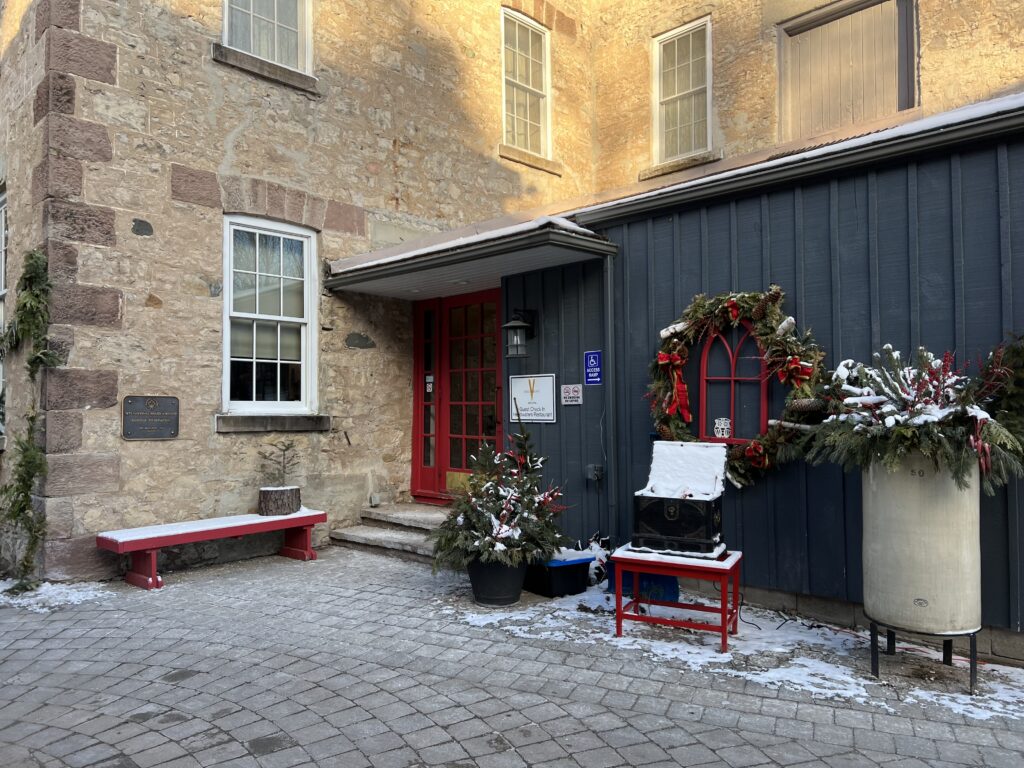 Tucked away in sleepy Alton, about 10 minutes outside of Orangeville, Millcroft Inn & Spa has been an area favorite for longer than I've been alive. Touting a high-end restaurant, world-class accommodations, and a spa that's second to none, this property has been on the top of very many lists for a long time.
I don't know if COVID knocked the wind out of the sails of this resort or if management just is letting things slide, but the sparkle was gone from this once lustrous inn. I visited this boutique property eons ago with my family and have dinner there a few times but nothing recent. My memories of the place did not match the current state.
Accommodations
We opted to stay in a 2-story room with an outdoor hot tub. These rooms are not in the main building but are a short walk down the driveway and across the river. We visited in January on a very cold weekend. There was plenty of snow around, which coated everything in white. It was postcard-perfect weather – albeit cold – and perfect for a little getaway.
The room was fine. We appreciated the heated floors in the entry and bathroom, and the room itself was comfortable and spacious. The fireplace was lovely on those dark, cold nights.
Upon closer inspection, you could see that the carpets were worn, the lampshades bent and discolored, and the curtains bleached from being too old and from too much sun exposure.
The hot tub, which we paid a premium for, didn't get up to temperature the whole first night. It was cooler than a bath. This is when our fun really started.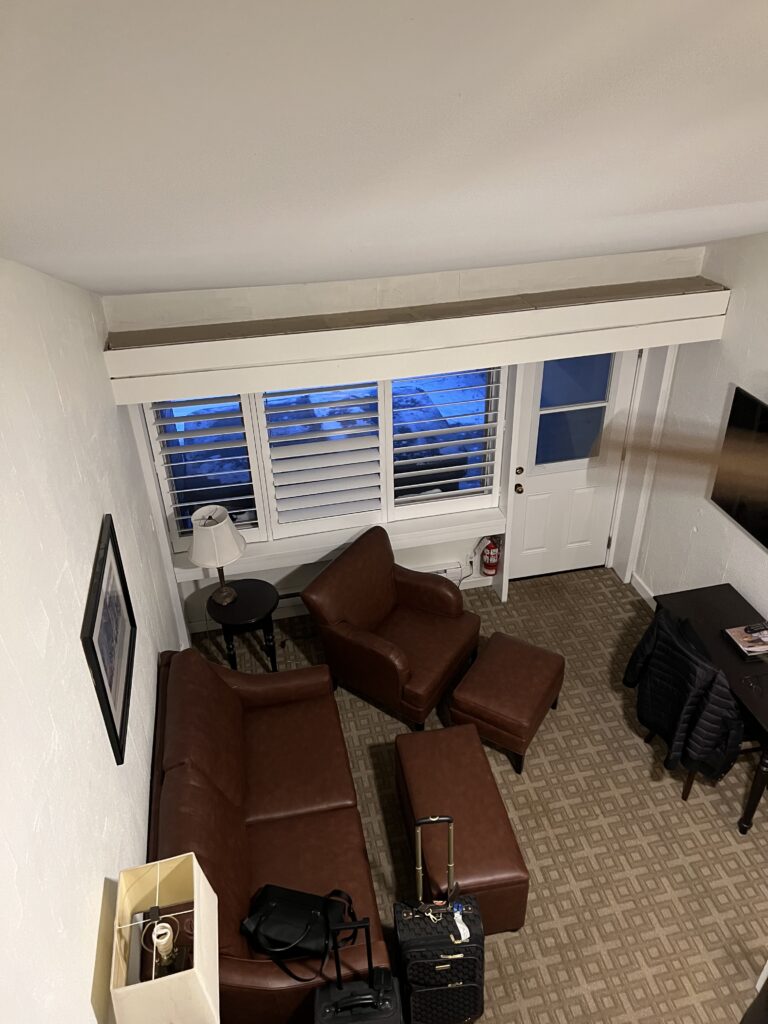 Service & Hot Tub Woes
We called as soon as we noticed the hot tub wasn't working, and we were told by a short-tempered desk agent that it was abnormally cold, and so the hot tub wouldn't get to temperature. I replied that this was nonsense, and they sent someone to look at it. They couldn't find anything immediately wrong with it and suggested it just needed time to get up to temperature, so we went to bed the first night without having dipped into the hot tub.
The next morning the hot tub was still having issues. We called again, and this time I asked to speak with a manager, and I was informed that the manager wasn't in and would call me back. When I got no such call, I called again and was informed that the manager wasn't going to be in for the duration of the weekend. I found this very odd – what 5-star property doesn't have a manager on-site? I asked to speak to whoever was in charge, to complain again about the hot tub.
By now, it is our second evening, and they sent the maintenance manager out to look at the tub. He flipped some sort of breaker to reboot the tub, and lo-and-behold it started to heat up.
After another annoying call with the acting manager, I managed to get the hot tub charge comped from the room fee.
Dining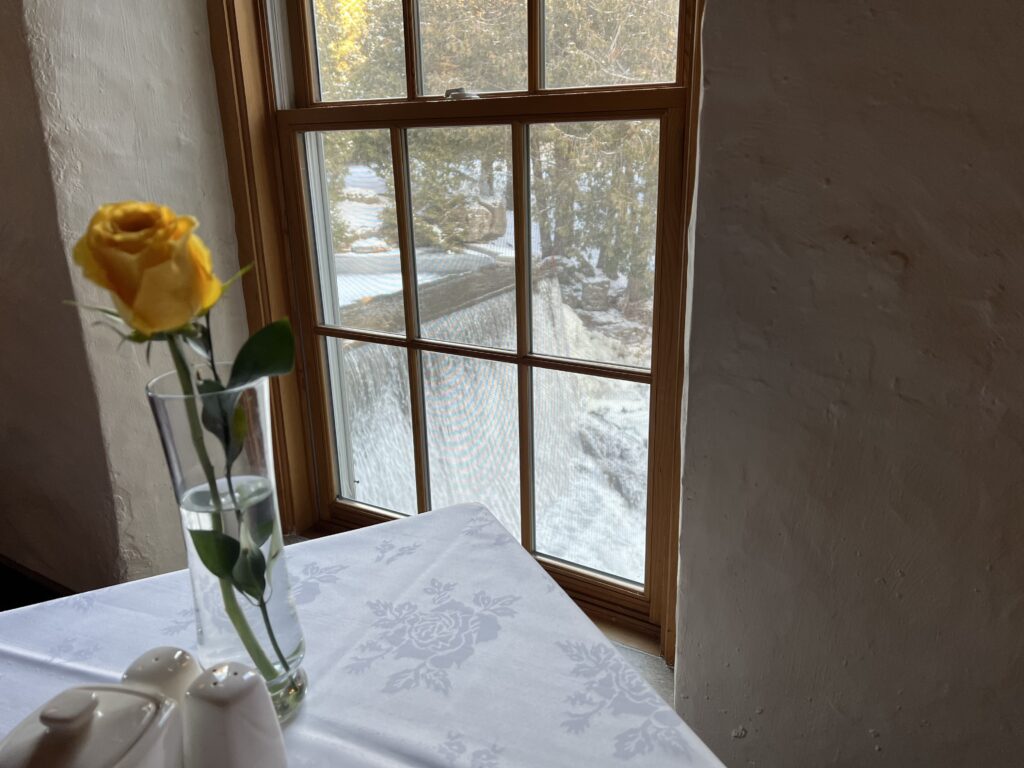 We booked a reservation for dinner in Headwaters Restaurant, their signature fine dining eatery. We had a cocktail at the small bar before dinner, then walked the handful of steps into the dining room.
Be prepared for smallish portions and big prices.
Before you go all bananas on me about food costs, service, overhead, etc., I'll remind you that I'm a retired professional chef and business owner, so I GET IT. However, you're paying a premium for dining here just because it is their flagship restaurant. You're also paying for convenience – if you stay on the property, there's really nothing else around unless you drive into Orangeville or Caledon.
Like other areas on the property, we saw visible signs of wear and tear. The glass partition beside me wasn't very clean, the stairs into the dining room were frayed and worn, and if the lighting had been brighter, I'm sure I'd have seen more.
Dining at Headwaters Restaurant
Our server was rather full of himself and freaked me out a bit by holding out his hand for a handshake. I've dined all over the world, and never have I shaken hands – after being seated, no less – with a server. Also, with COVID still on the fringes, this freaked me out, and I went off to wash my hands as soon as I could.
I was unimpressed by the menu. You'd think that a restaurant of this caliber would attract more culinary talent in the kitchen, and whoever designed the menu should get a primer on the seasons. We were handed a fall menu in the middle of January. The menu was also limited, with just a handful of appetizers and mains.
I was unimpressed by the starters, so we nibbled on bread (had to ask for more butter) and waited for our entrees. I ordered the Confit Olive Oil Halibut, and it was nicely prepared. The fish was a decent portion, the sauce was lovely, and the plate was pretty. There was a notable absence of any kind of potato or starch in the meals, so we paid $12 for a small dish of roasted potatoes. They were yummy and nice a hot, but the price was a bit steep for taters.
Hubby ordered the Ontario Beef Tenderloin. It was on the small side, and he had a few weird potato stick things on his plate. Extruded and fried potatoes perhaps? The plate was interesting to look at, but it smacked of trying too hard.
Dessert was the real winner here. We ordered the Millcroft Signature Honey & Maple dessert, which was a lovely plate loaded with all sorts of tasty treats. It was fresh, fabulous, and I'd go back just for that dessert. I felt it was reasonably priced – if not underpriced – for the dessert.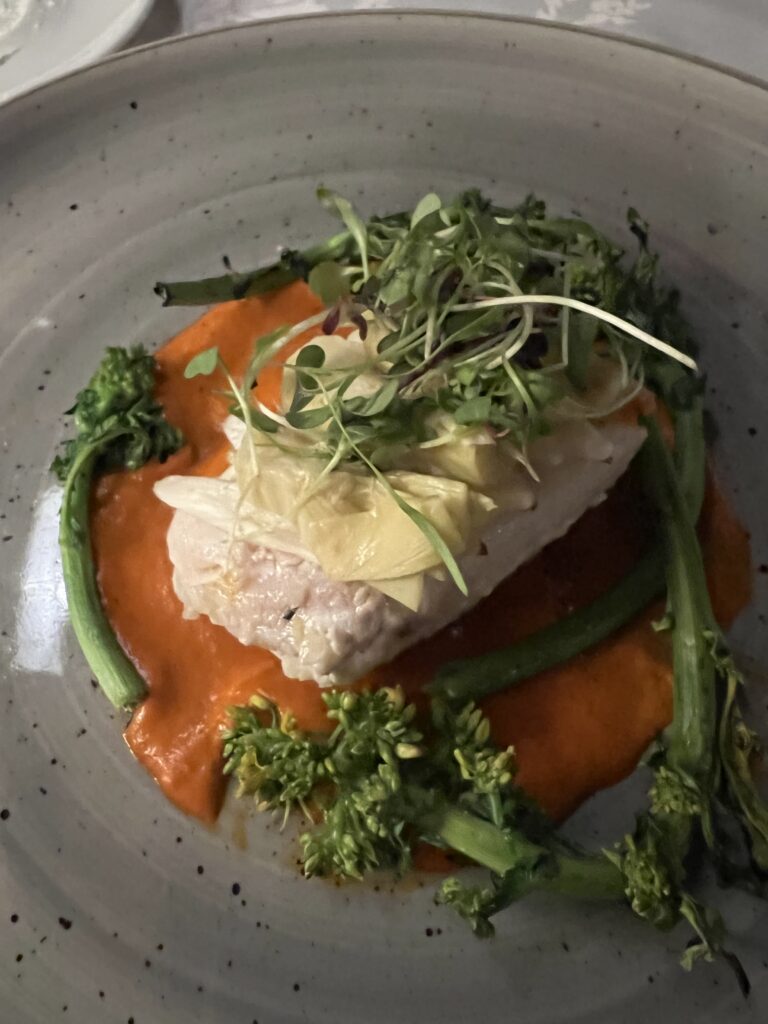 I did not opt for a glass of wine. The by-the-glass wine menu was also limited, and if there's no merlot, I won't order anything. Wine snob? Perhaps, but how hard is it to keep merlot on hand? It's a totally drinkable wine and pairs perfectly with a variety of dishes, both hearty and light.
We also had breakfast the next day. It was OK. We were a little amused that they ran out of bacon and subbed sausage for us without even asking. They also neglected to tell us that they ran out of bacon which would have then given us the option to order something else. Their homefries were more of those weird extruded fried potatoes. They tasted more of oil than potato.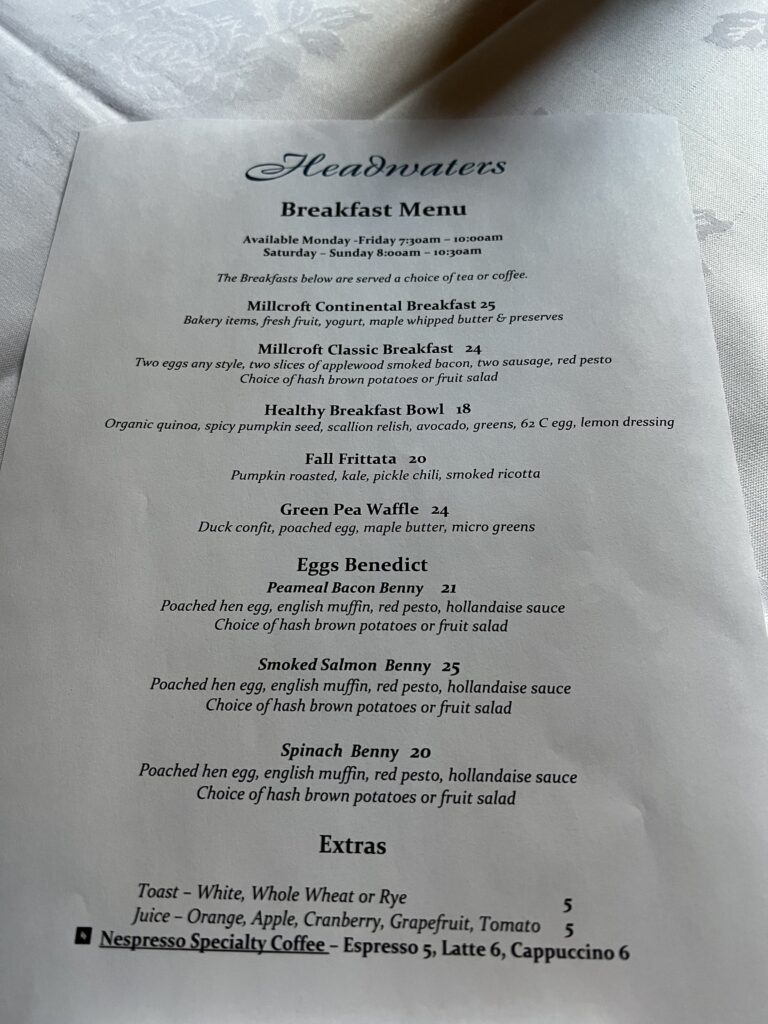 The Spa
Here's where Millcroft Inn really shines. The spa, in particular the outdoor hot pools, were outstanding. Separated from the main building and across from the other building of rooms, the spa is accessible from near the parking lot. It is a lovely newer building, and with a variety of pools in various temperatures, it is the perfect spot for soaking away your cares on a cold day.
The spa itself offers a variety of treatments, but they were fully booked when we arrived. If you want spa services, book well in advance. The pools, however, were open, and we made good use of them.
With lovely landscaping, you can soak all day and well into the night. The towels were fluffy, the changing room was tidy and clean, and access to the pools is included in your stay. In case you want more water, there's an indoor pool in the spa building.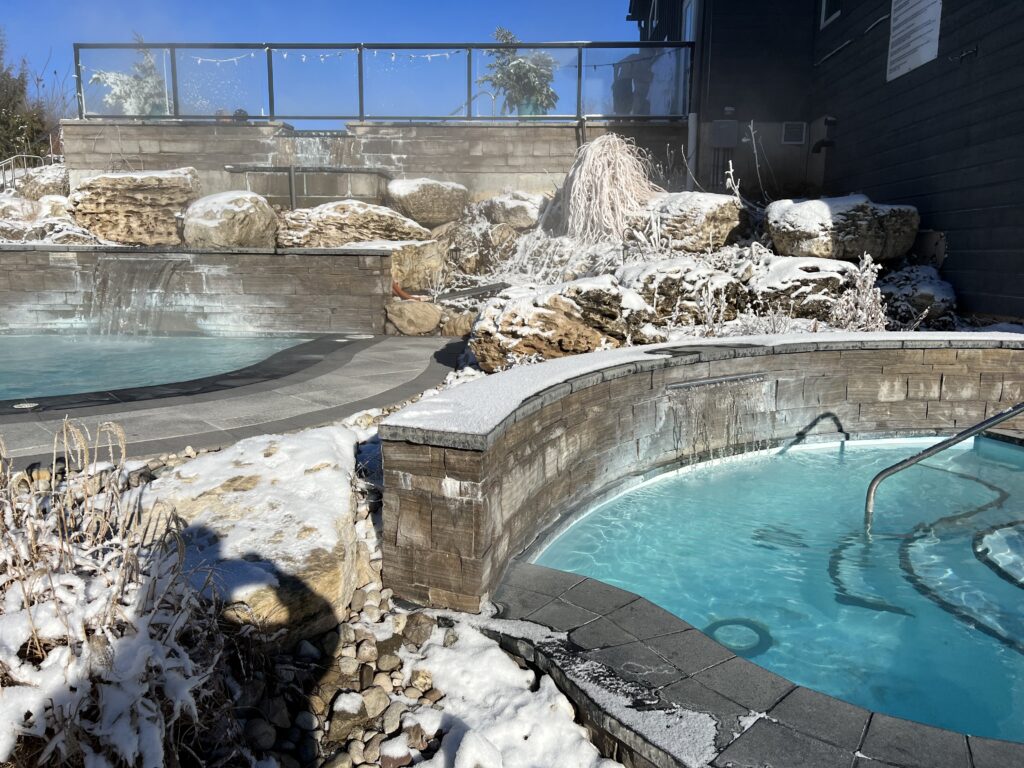 Other Tidbits
The grounds here are undeniably lovely, and this would be a great spot for a wedding. In fact, we saw an outdoor winter wedding happening, and it looked magical. There is an events building across from the main inn, where I assume the larger group events are held.

Adjacent to the restaurant is a small lounge where you can have a more casual meal, and if you stay in the inn itself, there's an elevator to reach the upper rooms. We did not see any of the rooms in the main building.
We went into Alton to explore, and there's really nothing much there. We did grab a tasty and affordable breakfast one morning at Gather Cafe right on the main corner in Alton. There's really not much else here.
We also went into Orangeville for dinner and had an amazing meal at Bluebird Cafe. Orangeville needs to be a whole other article – it's not the same sleepy farmer town that it was 30 years ago.
The Final Word
I don't think I'd go back to Millcroft Inn & Spa. Sure, the grounds are lovely, and the spa is unique and fabulous, but the service, room, and overall polish are lacking. It was a pricy weekend and the weak service and dining left me feeling unsatisfied with my stay.
Contact Info for Millcroft Inn & Spa
Have you visited Millcroft Inn in Alton? Leave your thoughts below in the comments!