Tucked away on the shores of Peninsula Lake in Muskoka, Deerhurst Resort isn't just one of the oldest family resorts in the area, but it's also one of the finest. We spent a few glorious days there in the middle of the summer, and I've got all the info you need to enjoy all this fabulous property has to offer.
Nothing says summer quite like lying out in the sun next to a lake, and while this Muskoka gem offers plenty of shoreline to do just that, this busy Ontario family resort offers so much more. When you're not busy catching rays, you can be playing on the lake, swimming in any of a number of pools, dining in world-class restaurants, playing tennis or golf, and so much more. We spent a few jam-packed days at this resort, and it wasn't nearly enough time to do and see it all.
Deerhurst Resort For Families
Deerhurst Resort is great for families. It is an a la carte property, which means that, unlike some other Ontario resorts, you pay for what you do. Sure, some things are included in the added resort fee, like the watersports and access to tennis courts, pools, and more, but if you want to go wall climbing, spend time in the arcade, play a round of golf or go out on the bikes, those things will cost you.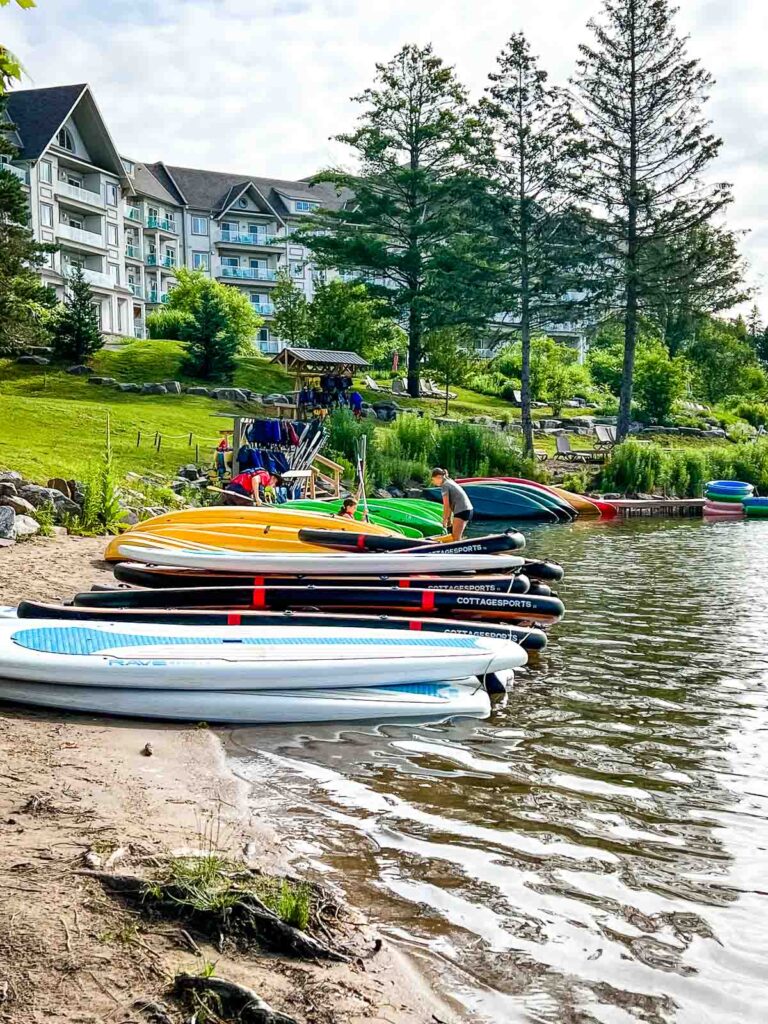 If you're fine with looking after your kids all day – there are no drop-in childcare programs at Deerhurst, then this is a great resort. Of particular note are the sandy beaches. With clearly marked swimming areas and very gradually deepening shorelines, your kids can play all day in the sun, sand, and water.
There are several sandy beach areas at Deerhurst, so if one is crowded, just head on over to another! There's even some shade to be had, in case you've had enough sun.
For bigger kids and adults, there are kayaks, canoes, stand-up paddleboards, and more. There are plenty of lifejackets available, and the friendly waterfront staff is on hand to help. You can also rent jet skis, take a waterskiing lesson, or rent a boat – but be prepared to shell out for those.
Deerhurts's waterfront area isn't my favorite. I prefer Fern's or even Severn Lodge's, which both have more waterfront area and more docks to hang out on. Deerhurst's location is also not quite as lakey. What I mean is that part of the waterfront overlooks Sunset Bay which is a shallow bay where they have boat docks. The rest of the waterfront overlooks a narrower portion of the lake, so there aren't really the big expansive lake views you might be hoping for.
Lodging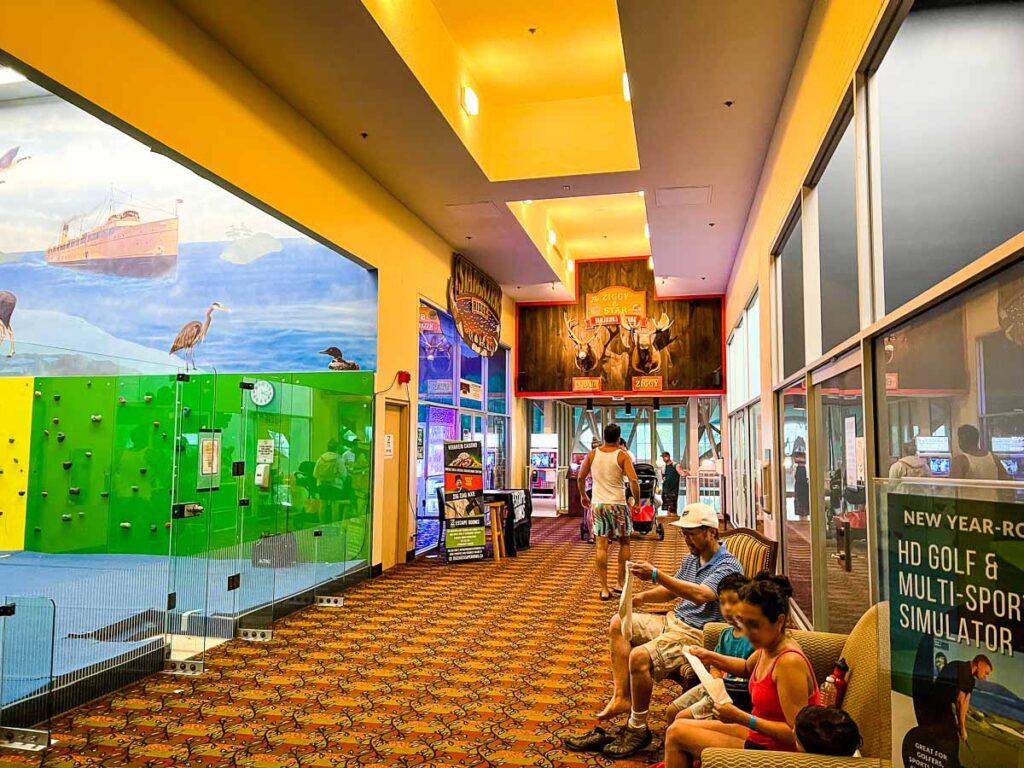 Where Deerhurst can't be beaten is with its selection of accommodations. From rooms in the main pavilion building to any number of rooms throughout several other buildings, you can get a room as small or large as you like. We had a room in the Bayshore building which has the benefit of having lake views, but while it was right on the water, it was a long trek from the main building and any restaurants.
Pro Tip
Call and request the shuttle to take you back and forth from the pavilion building to the beach. It'll even take you to the Antler Restaurant or golf course, which is a bit of a hike away.
Our room in Bayshore 1 was spacious and had two queen beds as we were traveling with our daughter. The AC was in good working order and wasn't too loud. I didn't realize we wouldn't have a balcony to sit on, so be sure to request a room with a step-out balcony if you like to enjoy your coffee outside in the morning. The room was pleasant, clean, and wasn't dated.
The Food
Unlike some other Ontario resorts with limited dining options, Deerhurst Resort really excels when it comes to on-site dining. Not only do they have the Antler Steakhouse with world-class dining, but there are several other options, too.
Antler Steakhouse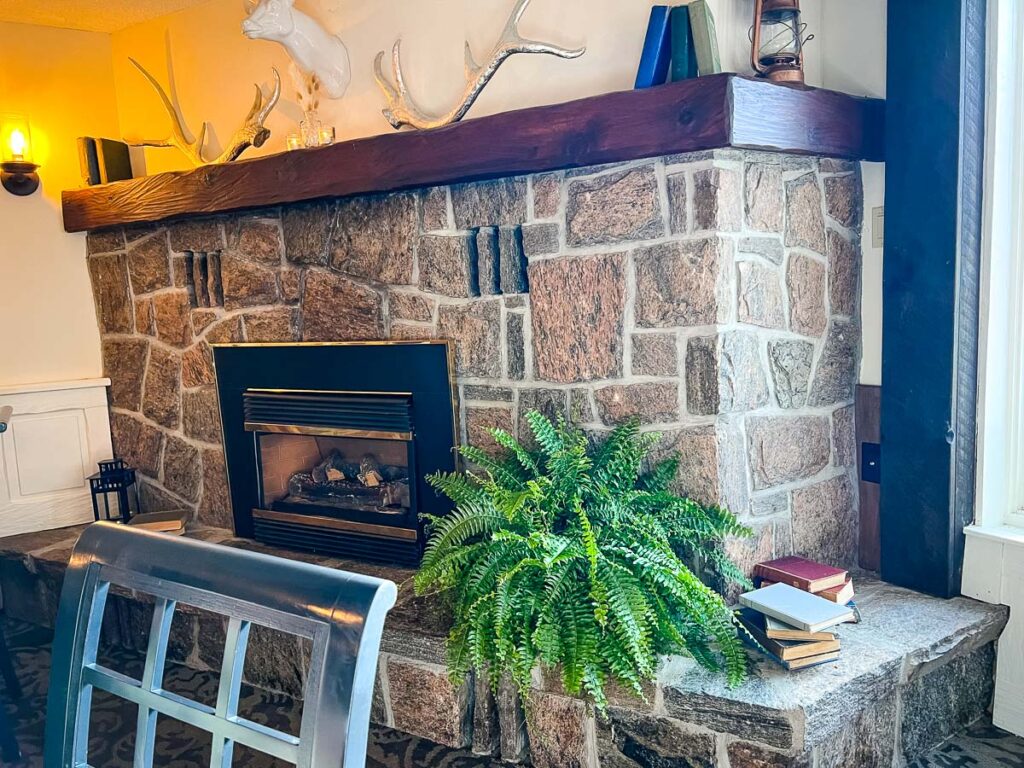 We opted for a meal at the Antler Steakhouse and called the shuttle to whisk us away to the restaurant, which is located on the golf course. The shuttle took quite a while – so call early. I guess dinner time is a busy time for the shuttle.
Antler Steakhouse was charming, with a great blend of a cottage-like feel with modern amenities. We were there on a Friday night and there was live music which was quite loud, which made conversation difficult. They wanted to seat us right next to the music duo, and we requested to be moved but had to enlist the aid of the manager to make this happen.
Like all steakhouses, Antler is pricy. We're talking 40-50 dollar entrees or more if you opt for one of the prime steaks. However, as consummate foodies, we were pleased with our meal which was delicious and beautifully presented.
We started with the bread and scone sharing platter. It said it was enough for two, but it was more than enough and the accoutrements that came with it were delightful and perfect for mixing and matching. Then we tried the Pork Belly & Burrata. It was a lovely presentation and delicious. It could have had more than a few small pieces of pork belly, but…. Then we tried the Shrimp Cocktail. I've never had a shrimp cocktail presented like this and it was fabulous with a generous number of shrimp.
For mains, we tried the NY Strip, the Bone-in Braised Beef, and the Supreme of Chicken. I've had braised beef at a bunch of restaurants, but I've never seen it served with a colossal bone like this was. The steak was perfectly cooked and very delicious. I was a little envious of the sides that came with hubby's meal, the Supreme of Chicken. He had a risotto, a lovely puree and some great veggies. Daughter and I had a sweet potato and Yukon gold potato gratin that was less in cheese and more in cream, and it was dreadfully underseasoned. And there was no salt on the table. Nonetheless, it wasn't our favorite side.
Our lovely server suggested their signature dessert, the baked Alaska. I expected a traditional version, but this was wildly different. The meringue was baked ahead of time and then layered around the lemony ice cream (sorbet?) in the middle. It was refreshing, fabulous, magazine-worthy presented, and delicious.
I will say that I wasn't in love with the wine list. It was kind of boring, and they had no merlots. I love merlot so I always look for them.
Overall, it was a fabulous meal. Music volume aside, the decor was lovely, the service was great, and the food was fabulous. Just be prepared for a big bill.
Other Restaurants at Deerhurst Resort
There's something for everyone at this resort. We tried the food trucks by the beach and the Eclipse Restaurant, and had drinks at Compass Bar.
Eclipse Restaurant
Open for breakfast and dinner, this flagship restaurant features buffets. We enjoyed breakfast here one morning, as well as dinner. I was a little wary about dining at this buffet restaurant based on some reviews, but it was fine. Not amazing, but better than typical buffet food, and the price was reasonable.
The breakfast buffet included a variety of hot and cold brunch favorites, an omelette station (who doesn't love a fresh omelette), pastries, and more. We ate plenty of bacon, the waffles were small and kept in a chaffing dish which meant they weren't great (hubby is a waffle aficionado), fresh fruit, and more. There was plenty of variety.
For dinner, every night features different carving table dishes and specials. We lucked out with cold shrimp and leg of lamb. We ate plenty of both, but also loved the pasta station, where they made fresh pasta creations with your pick of add-ins, and we put a dent into the dessert table.
Food Trucks
Close to the beach are two food trucks: one serving up poutine and other fried goodies, and the Petite Bakery offers fresh crepes, flaky croissants, and more. The crepes were out of this world, and judging by the number of people lining up for them, we weren't alone in thinking they were delish. Spend the $4 to get a freshly baked croissant and nibble on that while waiting for your sweet or savory crepe.
The poutine truck wasn't open on Friday – upon inquiry, the food trucks have to close two days a week. The poutine was good – who doesn't love fresh fries smothered in gravy and curds, but I would have preferred beefier gravy.
Compass Restaurant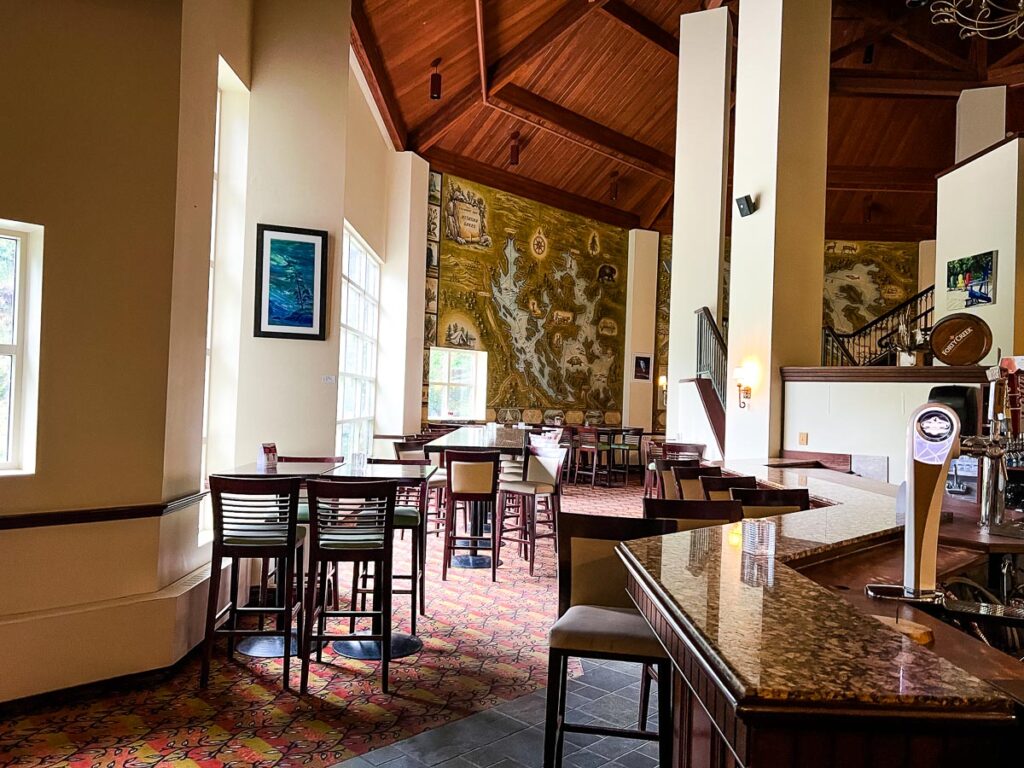 We had drinks here, not a meal. The menu included a mishmash of items from the Antler Steakhouse plus other fare that didn't really appeal to us. This just off the lobby restaurant and bar was pricy, but polished and casual.
Maple Restaurant
This is a more casual eatery, and the menu was also more casual. Open for lunch and dinner, it was rainy when we were looking for dinner, otherwise, we would have opted for dinner here and requested a table on the patio. There were lots of kids in this restaurant, so if you're looking for a quiet meal, this may not be the spot for you.
Last Comments
We crammed a lot into our 2 days at this resort, but the day we arrived was raining, and we found precious little to do while it was raining. We did a lot of aimless wandering.
We didn't participate in any of the scheduled activities because we spent so much time outside near the beach. It would have been nice to have some outdoorsy events or activities at the beach.
Go an extra day so you can spend some time in nearby Huntsville. It has one of the cutest downtown areas I've seen in a long time!
Contact Info for Deerhurst Resort
Address: 1235 Deerhurst Drive, Huntsville, Ontario,
Canada P1H 2E8
Phone: 1-800-461-4393
URL: https://deerhurstresort.com/
Have you visited Deerhurst Resort outside Huntsville? Leave your thoughts below in the comments!