Hidden away in the sleepy town of New Hamburg, Puddicomb House is a charming spot to enjoy a delicious meal. Officially a family restaurant, the food here is more elevated than your usual family dining fare, and I'd say this is more of a date-night spot than a meal with the family. Impeccable food, stellar service, and great decor are all hallmarks of this iconic spot. Read on for more details!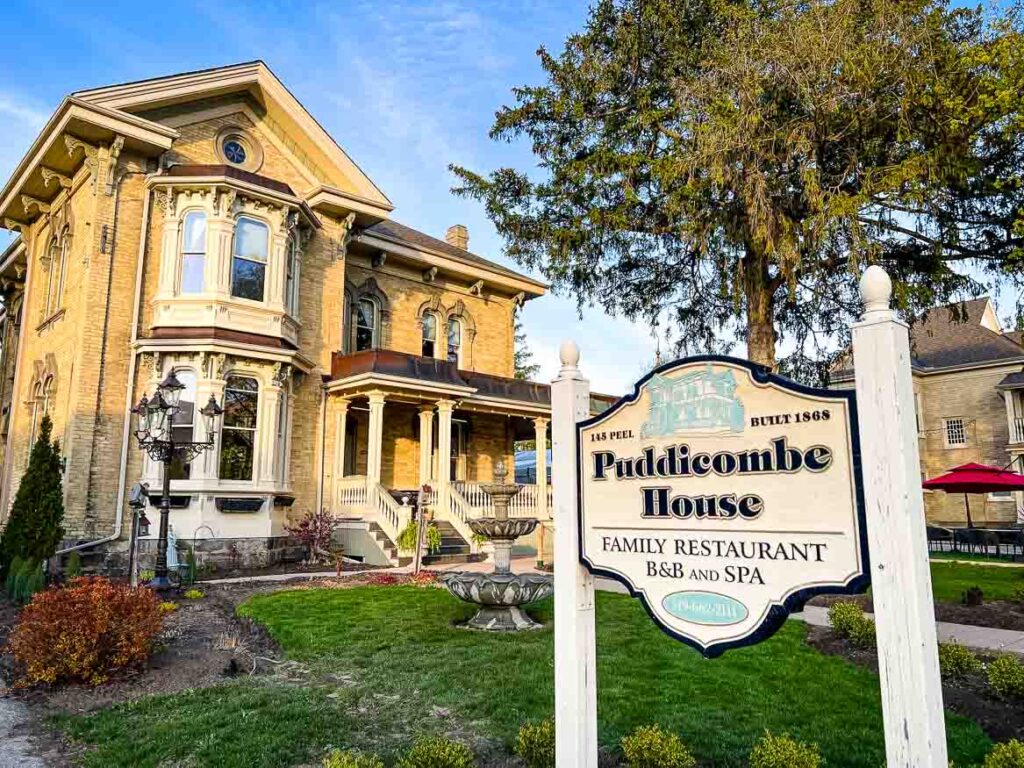 Housed right on the main drag through New Hamburg, a sleepy commuter town about 20 minutes west of Kitchener, this lovely spot has been on our radar for some time, and when we had a chance we headed over for what turned out to be a delightful dinner.
The Ambiance
Like all restaurants, Puddicombe House took a beating when COVID hit and had to pivot, opening up more outdoor seating options. So this charming locale actually has a few dining options. You can sit inside. The indoor dining areas are inside the transformed house, so there are several smaller dining rooms instead of a cavernous one. This kept the ambient noise down to reasonable levels, allowing for easy conversation.

There's also the huge front porch area that's set up with tables. If it were warmer, we might have chosen to sit there. It would be a lovely spot to dine.

Puddicombe House also features a large outdoor covered dining area, in addition to two large greenhouse-style all-season dining areas. They are too cute, but you'd have to reserve those quite a ways out, I'd imagine.
The Service
We had no complaints about the service. The server was friendly, efficient, knowledgeable, and wasn't obtrusive. There appeared to be enough servers on hand to easily handle the number of diners, and I guess we were there early because they certainly got busier toward the end of our meal.
Cocktails and Drinks
I was less impressed by the cocktail and wine menu. The cocktails were limited, and many seemed more in line with dessert cocktails rather than pre-dinner drinks. The wine list was also not very exciting. I opted for a cocktail rather than wine and settled on the Rossini, which was light and refreshing.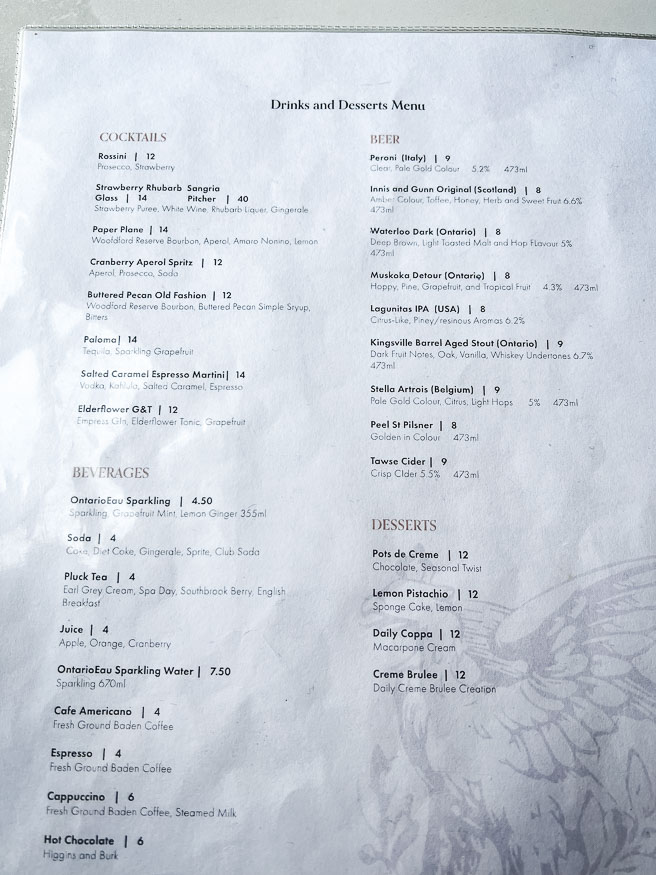 The Menu
The menu at Puddicombe House had a bit of something for everyone, but I was pleased to see that they didn't try to cover too many different cuisines. There was an emphasis on starters which would make this spot a great pick for small-plate dining. I love going out to eat and picking different small plates instead of a traditional starter and main dish.

I had Parsnip & Pear Soup, which was the Soup of the Day. An odd choice for spring, but I was intrigued. It was tasty – had a good balance of flavor, and was nice and creamy, which I love.

Matthew ordered the Pickled Peach Salad, which was more in line with the season. It was a big plate and had plenty of fruit on it, but the pickled peaches were a bit underwhelming. I think there's room for plenty more pickle in those peaches. This salad was big enough to share for a starter.

There was no bread and butter brought to the table, so we opted for the focaccia with spreads. That was the hit of the appetizer round. It was freshly baked, toasted to perfection, and had a distinctly cheesy flavor. The spreads were a fun addition, and we mixed and matched them to try them all.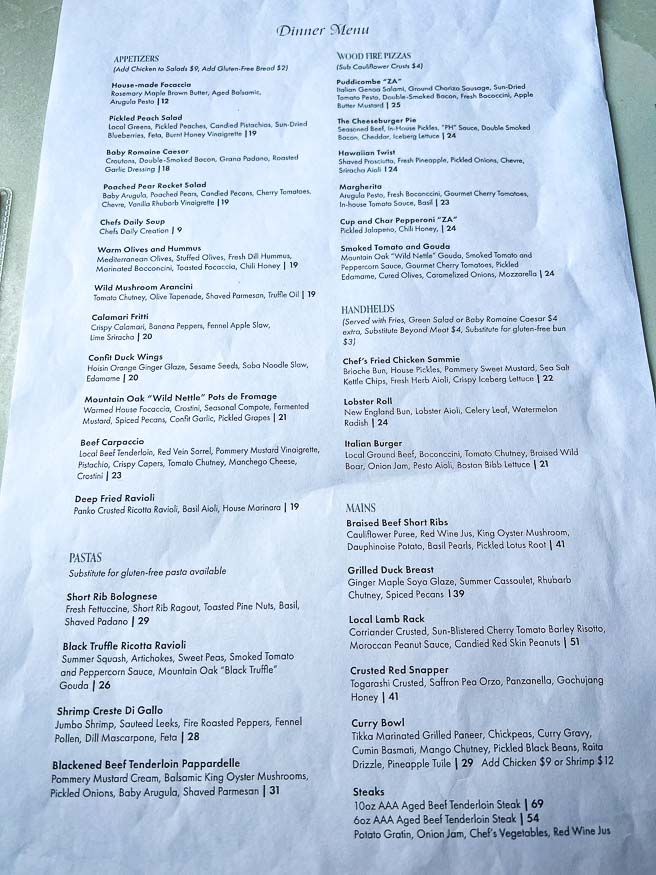 For entrees, we were both in a pasta mood, but to be honest, the main dishes were a bit underwhelming. I see beef short ribs, duck, and lamb on every menu. We were craving something a bit different. I tried the Shrimp Creste di Gallo, and Matthew had the Short Rib Bolognese, and we were delighted with both dishes.

The Shrimp Creste di Gallo was light, citrusy, and perfect for the season. It had 4 large shrimp on the plate, and while creamy, it wasn't swimming in sauce. There was plenty of feta and dill, and the creamed leeks were a nice touch. Matthew's dish was a bit more pedestrian but still delicious. It was robust and hearty, and the short rib ragu was delicious. There were plenty of pricy pine nuts on the dish that made it feel like a splurge, though the clump of pea sprouts was a bit of an awkward garnish.

We didn't have dessert because nothing on the menu really grabbed our attention.
There's More to Puddicombe House
Puddicombe House isn't just a restaurant. It also operates as an inn and events venue. We didn't see the rooms or the inside of the events venue, but there's plenty of information on both of those on their webpage. This would be a lovely spot for a wedding, especially in the spring and summer when the grounds are green, and the flowers are in bloom. There is also an on-site spa, but we saw no sign of that.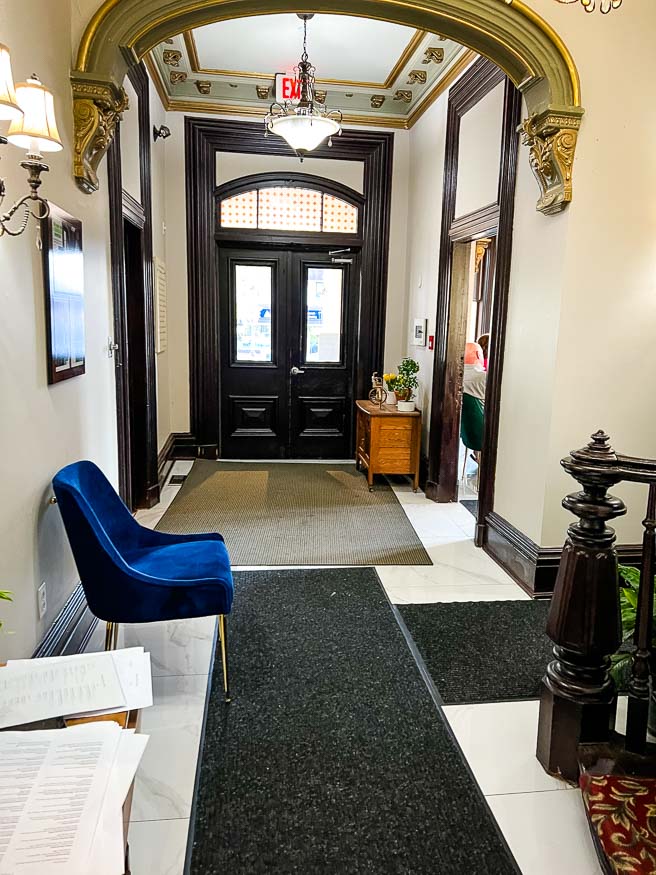 The Final Word
We very much enjoyed our visit to Puddicombe House. The menu could use some seasonal tweaks, but there was plenty on it without it trying too hard to appease everyone. We'd be more interested in repeat dining if the menu changed more frequently.
Contact Info for Puddicombe House
Address: 145 Peel St, New Hamburg, ON N3A 1E7
Phone: 519-662-2111
Have you visited Puddicombe House in New Hamburg? Leave your thoughts below in the comments!