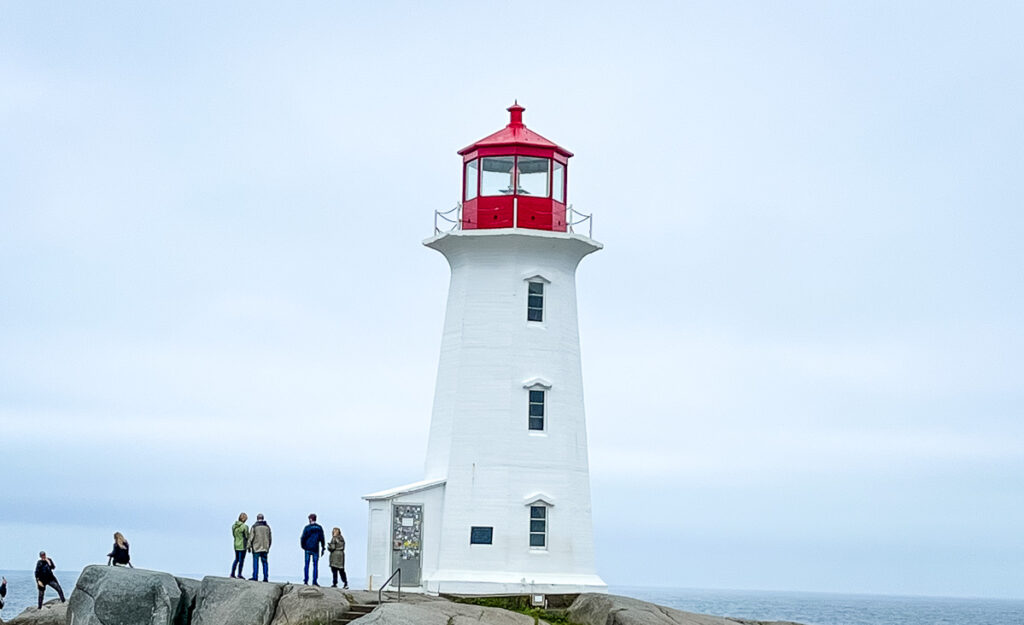 This past summer, we decided to swap the urban sprawl of SW Ontario for the maritime charm of Nova Scotia. After a quick flight into Halifax, my husband Matthew, our daughter, and I hopped in the car and made our way to the iconic Peggy's Cove. Even though the skies were cloudy and the rain was coming down, our spirits were anything but dampened. From the timeless allure of the lighthouse to a comforting meal at Tom's Lobster Shack, here's how we turned a rainy day into an unforgettable adventure.
The Lighthouse
No trip to Nova Scotia is complete without a trip to Peggy's Cove to see the lighthouse. Named the most photographed lighthouse in Canada, this is an iconic stop not just for the views but to soak up the history of the lighthouse itself.
The Peggy's Cove Lighthouse, also known as Peggy's Point Lighthouse, is more than just a picturesque spot; it's a piece of Canadian history. Built in 1915, this lighthouse has been guiding fishermen, sailors, and casual boaters safely back to shore for over a century. Its white and red exterior stands as a stark contrast to the grey skies, and even in the rain, it looked absolutely stunning.
Getting to the lighthouse from the parking area and gift shops can be a bit treacherous. There are paths, but they are rocky and uneven. But, the lighthouse is close enough to the parking area to get a good view, and there are accessible observation decks nearby, too.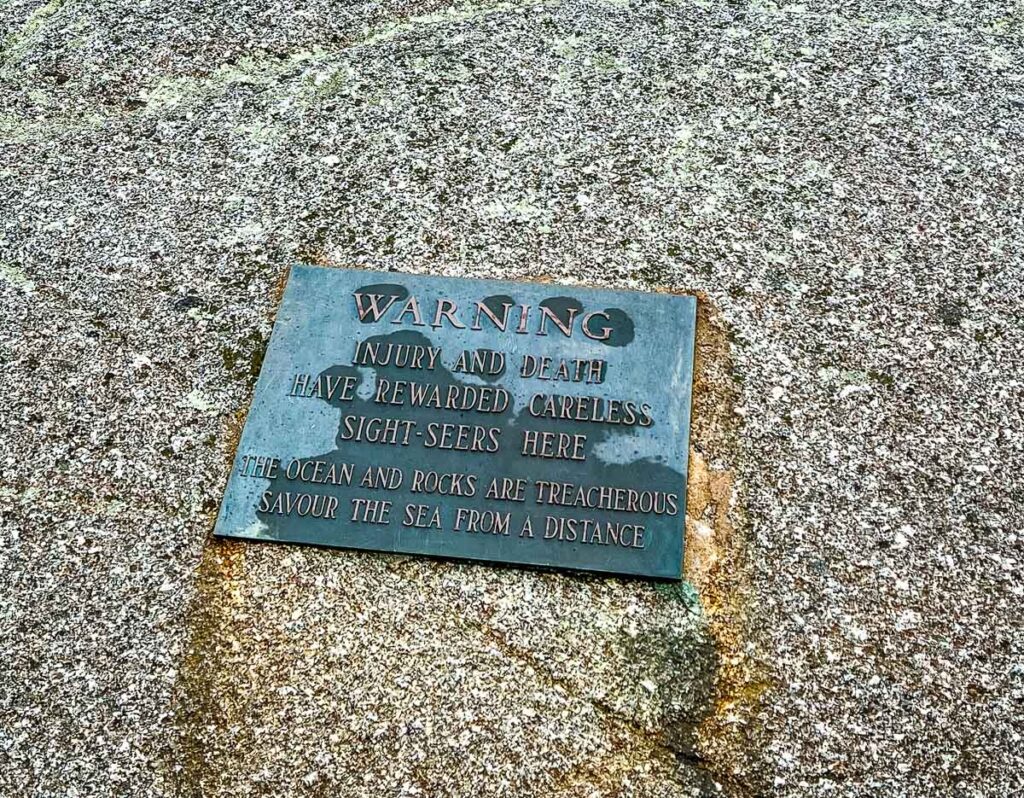 Of course, we took a billion pictures. Not just of the lighthouse but of the view. I just wish the day were clearer so we could have had better visibility.
What to Do in Peggy's Cove
Apart from marveling at the lighthouse, Peggy's Cove offers a quaint, small-town charm that's hard to resist. We had lunch at Tom's Lobster Shack, where the lobster rolls are a must-try. There's no indoor seating here, and because it was drizzily, we ate in the car. There was a limited menu of lobster rolls (several different kinds), and one Montreal smoked meat sandwich. The lobster was amazing. It was unbelievably fresh, and it set a very high standard for lobster rolls everywhere.
After lunch, we spent some time exploring the gift shops that dot the area. From maritime trinkets to locally made crafts, these shops are treasure troves of unique finds.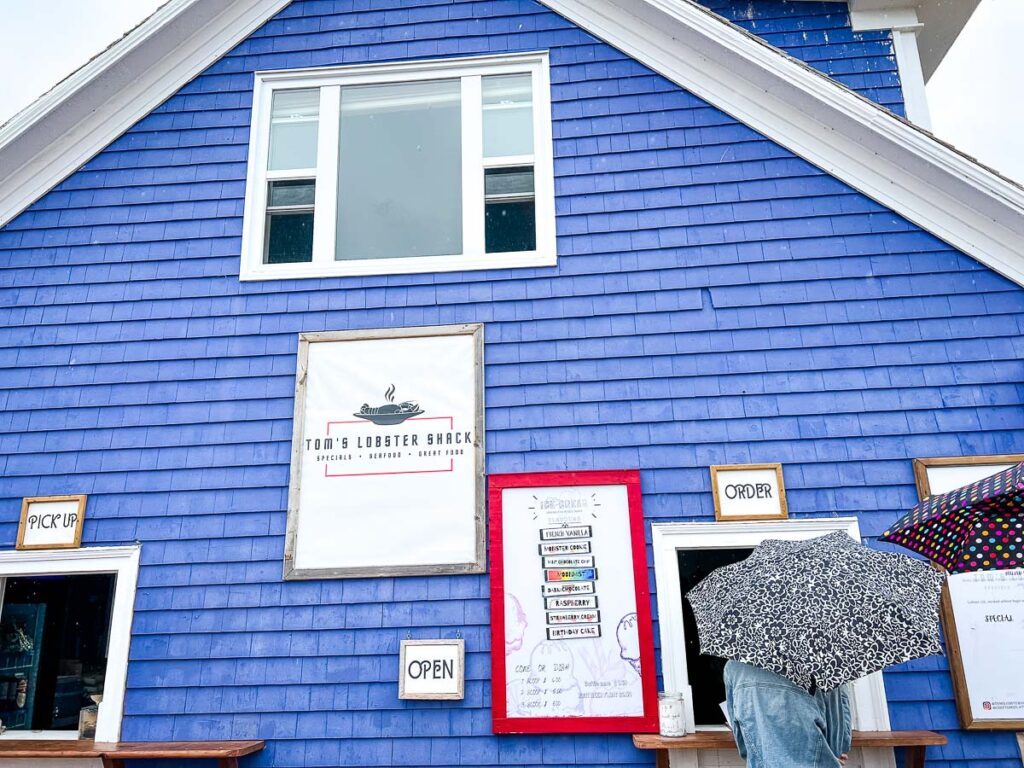 Best Time to Visit
While summer is generally the most popular time to visit Peggy's Cove, there's something incredibly serene about seeing the lighthouse against a backdrop of rain and mist. The crowds are fewer, and the whole place takes on a mystical, almost ethereal quality. Just make sure to pack some rain gear and waterproof boots!
How to Get There from Halifax
We drove from Halifax to Peggy's Cove, and the drive took us about an hour. There are two main routes to this southern point in Halifax, and one of them was closed, so we had to take the less scenic route.
Conclusion
Rain or shine, Peggy's Cove is a must-visit if you find yourself in Nova Scotia. The lighthouse is not just a sight to behold; it's a symbol of the area's rich maritime history. Whether you're a history buff, a foodie, or simply looking to escape the city, this charming little town has something for everyone. So, the next time you're debating whether to make the drive from Halifax, just go for it. You won't regret it.